3D embroidery on caps is an exceptional branding solution for your business. It involves stitching raised and textured designs on caps, creating a visually appealing and tactile effect. This technique adds depth and dimension to your company logo, making it stand out in a crowd. Implementing 3D embroidery on caps is a great idea because it not only enhances brand recognition and visibility, but it also sets your business apart from competitors. The unique and eye-catching nature of 3D embroidery grabs attention, making your logo more memorable and leaving a lasting impression on customers. By incorporating 3D embroidery on caps, you can effectively promote your business, increase brand loyalty, and create a strong visual presence in various settings, such as trade shows, events, or even as part of your employees' uniforms.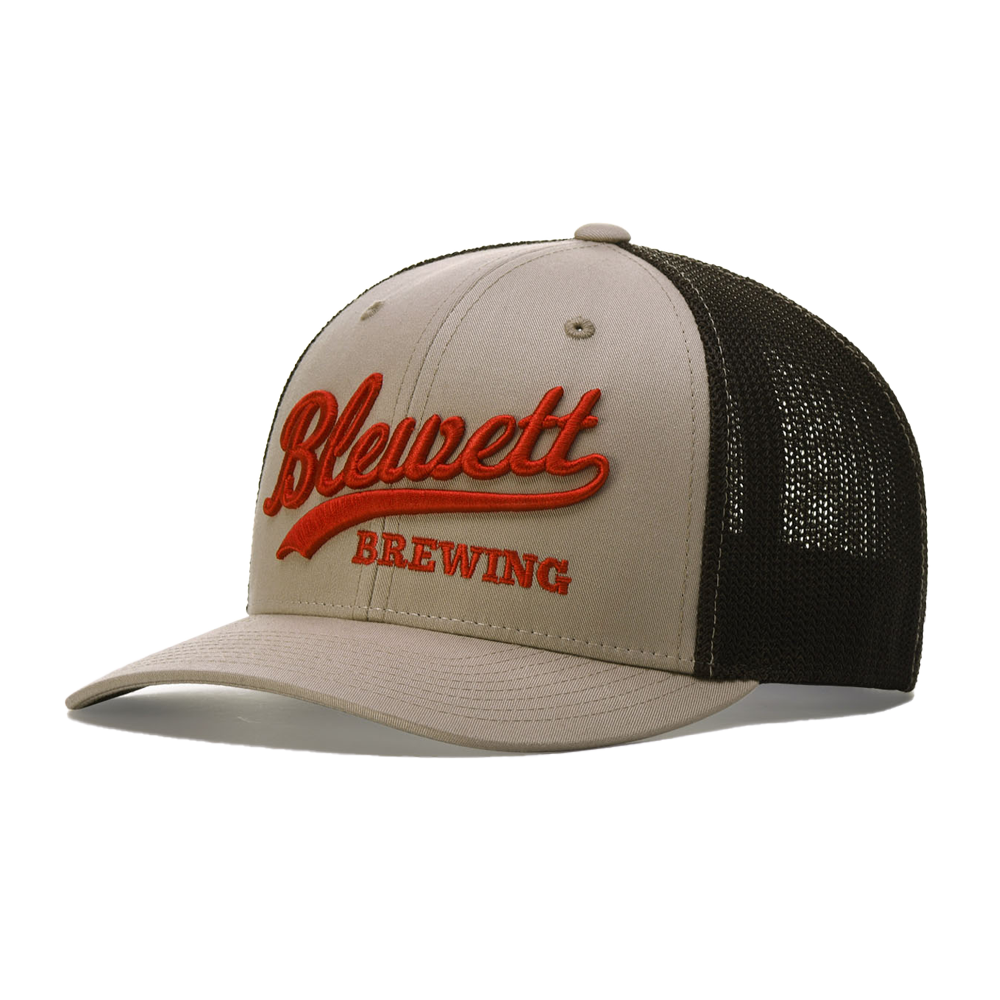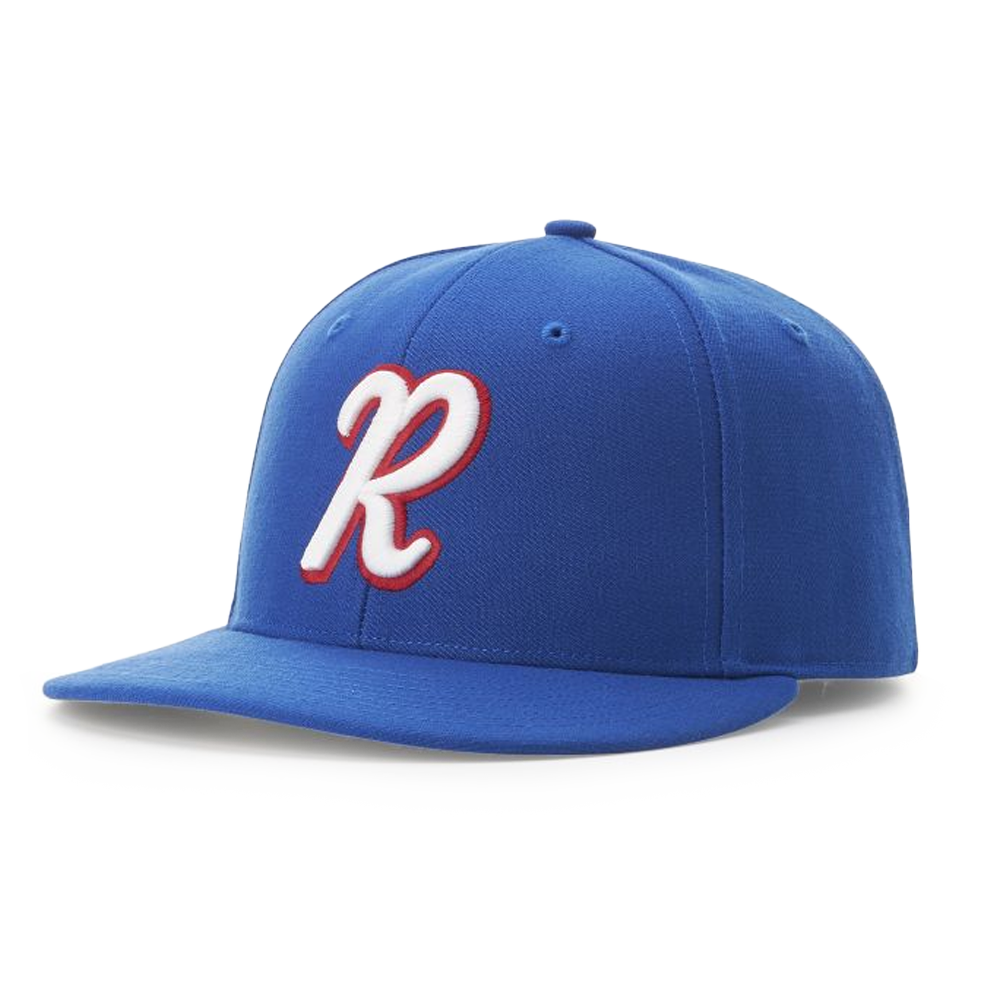 GET YOUR DESIGN EMBROIDERED ON: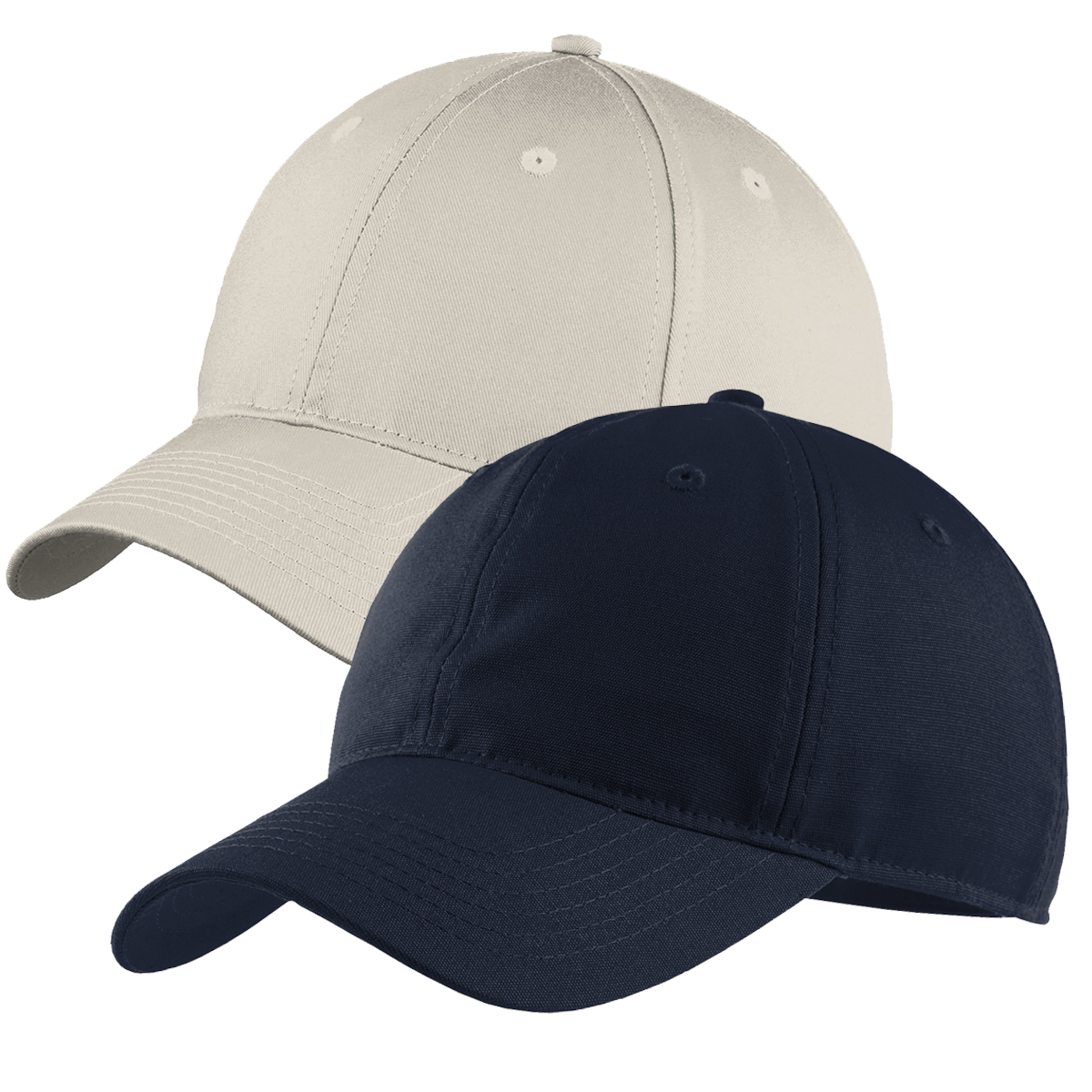 Classic caps are made of durable materials and have a classic, timeless design that makes them suitable for a variety of uses, such as promoting a brand, supporting a team or organization, or simply as a stylish accessory. They come in a range of colors and sizes to fit different tastes and head shapes, and the embroidery process ensures that the design is long-lasting and easy to read. Custom embroidered classic caps are a popular choice for both personal and business.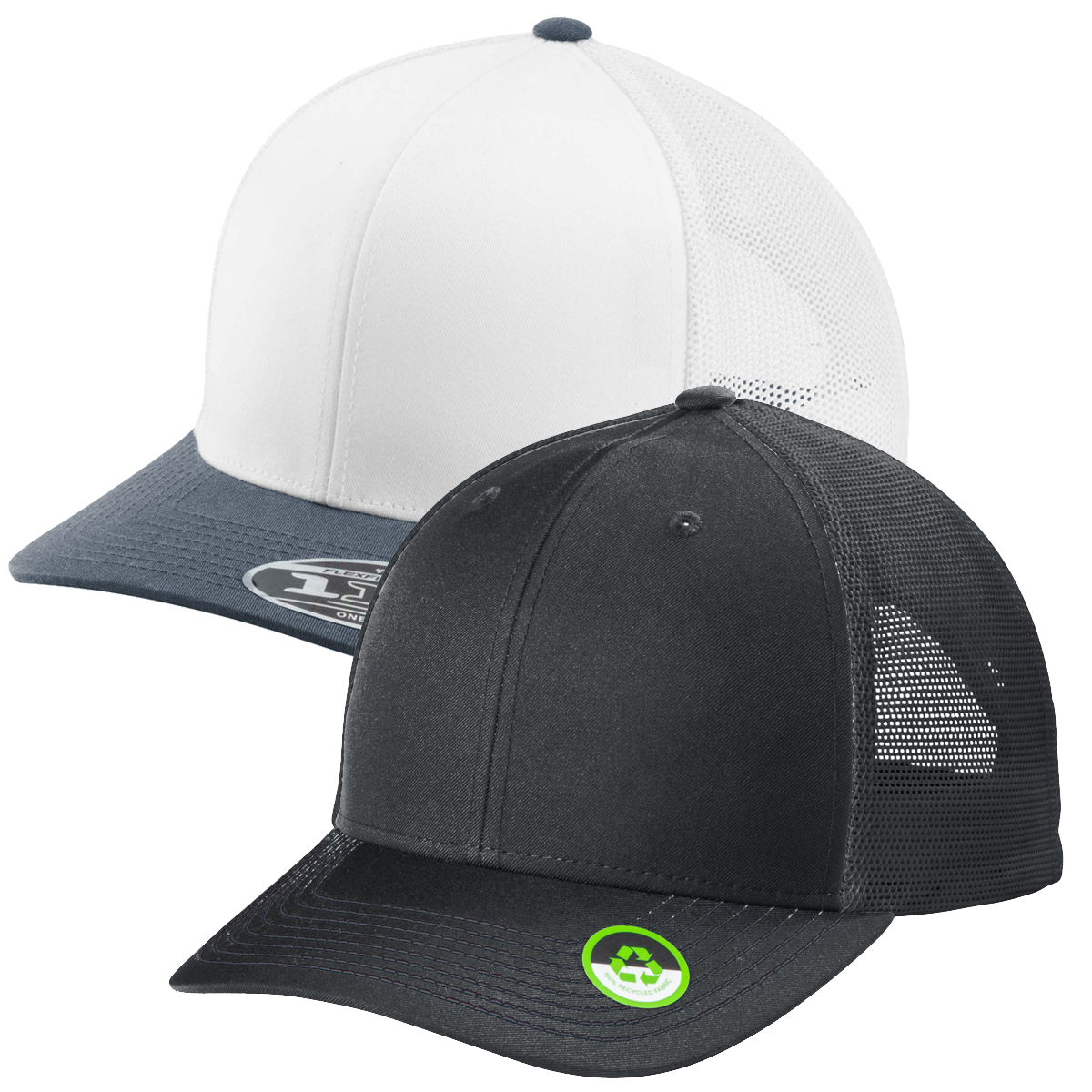 Custom trucker hats with your logo embroidered are a great way to stand out and make an impression. They are comfortable, stylish, and can be easily customized to your preference. Not only will they help you represent your brand, but trucker hats are extremely popular among all ages and genders. Whether you're attending a casual event or just looking for a fashionable accessory, trucker hats are the perfect choice. So why wait? Start customizing your trucker hats today and show off your brand in style!
Dad hats are a popular choice for individuals and businesses alike. These hats are a great way to showcase and promote a brand, or commemorate a special event. The hats are made of comfortable materials, such as cotton or twill, and feature a classic design that includes a curved visor and adjustable strap in the back. The customization process involves adding a design or text of your choice, which is then embroidered onto the hat. The result is a unique and stylish accessory that can be worn for years to come. Whether you're looking for a personalized gift or a way to promote your brand, custom embroidered dad hats are a great option.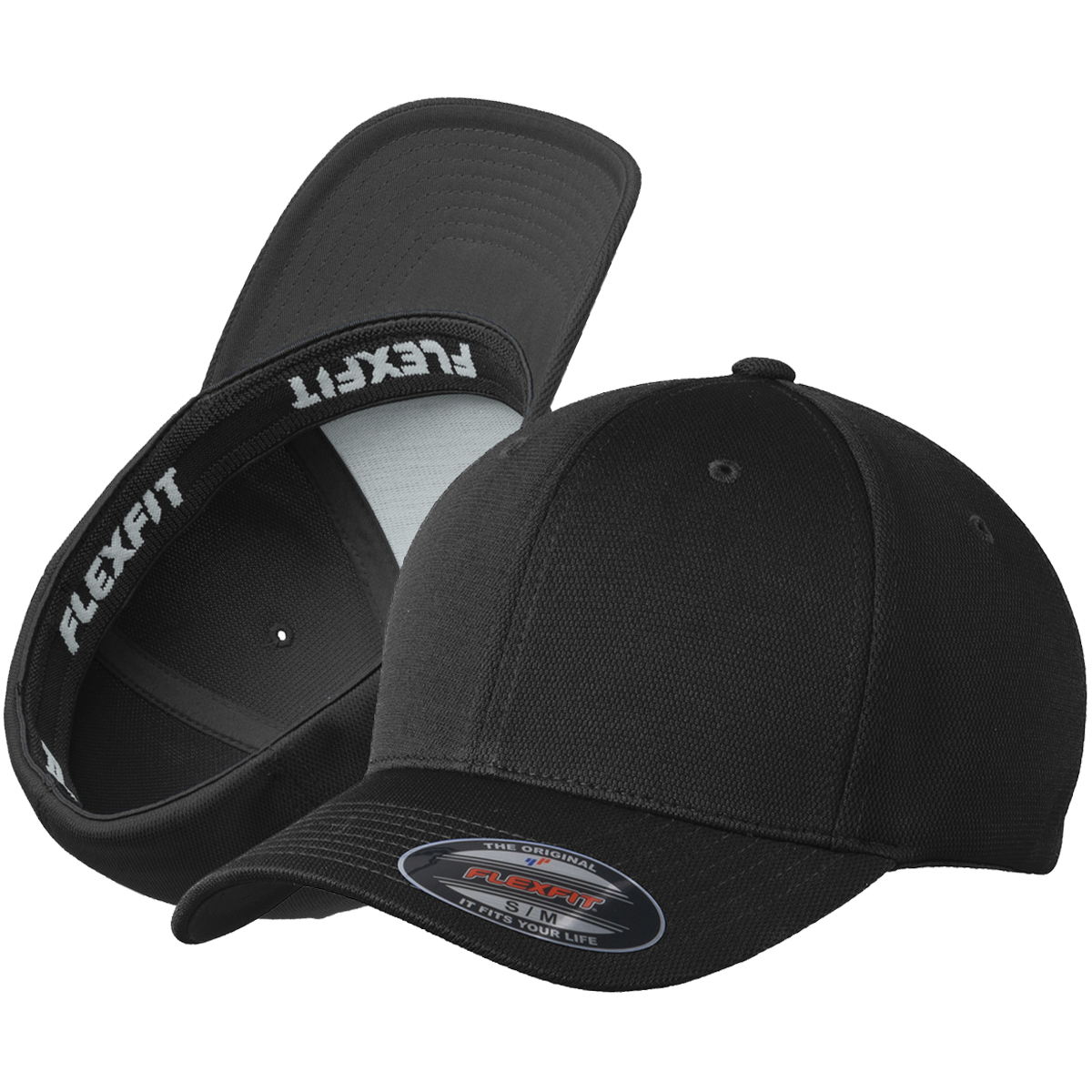 Flexfit hats are very popular due to
their comfortable fit and versatility. The stretchy band conforms to the shape of your head, and they come in a range of sizes and styles. These hats are not only suitable for a wide range of activities, but they are also machine washable and durable. In addition, Flexfit hats are popular as promotional items and can be customized with your company's logo or other designs through custom embroidery.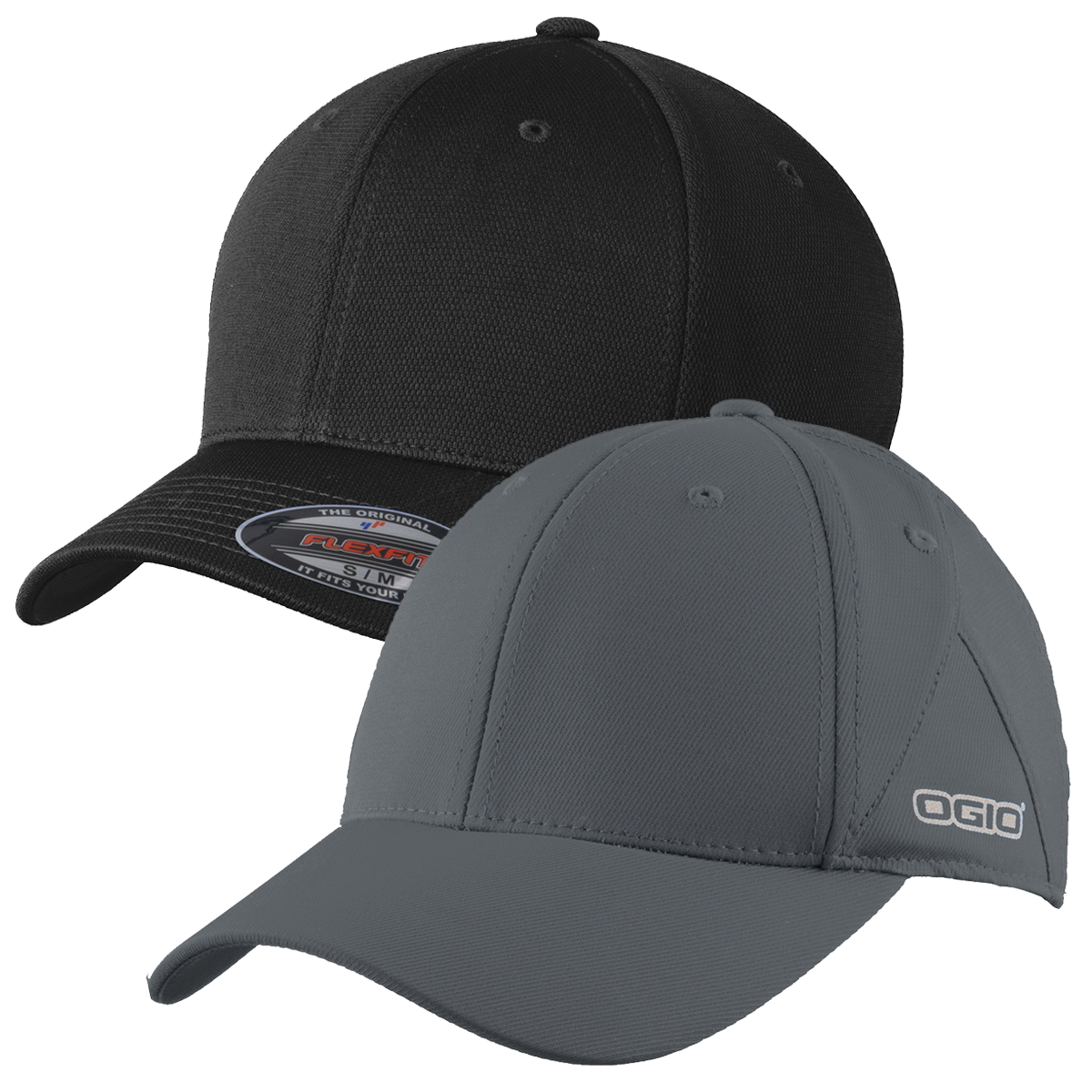 Performance caps with your custom business logo give your brand a unique edge over your competition. Not only do they provide your employees with a stylish and modern look, but they are also made of moisture-wicking materials that keep your team dry and comfortable during their workday. Performance caps are quickly becoming more popular for promotional activities as well, due to their high levels of visibility and vibrant colors. Whether your team is working hard on the sales floor or out in the field, performance caps are a must-have for your business. Add your logo to these performance caps today!
Best Place to Get Your Custom Hats
Custom Embroidered Classic Cap Pricing
Not Sure Which Cap Is The Right For You?
Answer just a few questions and we will automatically
recommend a that is right for you.
Custom embroidered logo caps are the perfect way to communicate your brand's message and stand out from the crowd. Whether you're an established business, a sole proprietorship or a start-up, custom logo caps add a professional touch and make sure that your logo is clearly visible at all times. When it comes to custom logo caps, the sky is the limit – we offer a wide range of materials and colors, so you can create a unique design that perfectly reflects your brand. With our expert team of designers and skilled embroidery technicians, we offer high-quality logo embroidery that will help take your brand to the next level.

We understand finding the perfect hat can be a daunting task. There are so many styles and color options to choose from that it's easy to become overwhelmed. But don't worry! This Free Guide will help you find the perfect hat for your business.
Download PDF Cap Guide today.
Get This Free Guide To Find The Right Cap
Here are the fundamental procedures for creating unique hats with embroidery
Select a hat: Choose the hat style you want to wear, such as a trucker hat, beanie, or baseball cap.

Choose your embroidery pattern: Select the embroidery pattern you want to use on your hat. This could be text, a graphic, or a company logo.
Digitize your design: We convert your design or image into a digital file that can be read and used by an embroidery machine to stitch the design onto a cap.
Configure your embroidery design: We set up your design in the embroidery machine, pick thread colors to match your logo and run a sample before starting your order.
Embroider your design: After we ran a sample and it looks perfect, we start embroidering the caps.
Taking the hat out of the hoop: After the needlework is finished, carefully take the hat out of the hoop.
Trim any extra threads: The next step is to remove any extra threads from the cap with the use of scissors.
Quality Control: We ensure your new hats look sharp and really to wear!
Wear or sell your custom-made hats: Your custom-made hats are now finished and prepared for use.
Customize your own custom embroidered hat.
High-quality embroidered hats and caps at affordable prices that will be perfect for to promote your company or event.
How long does an order take to be completed?
After sample is approved and payment is made by the customer, orders are ready in 1-2 weeks.
Will I be able to see sample before production?
When we send a quote we include pictures for your approval. We only start production after we receive customer approval.
Can I see a physical before placing a bulk order?
We stand behind our work but we can also offer physical samples before placing a bulk order. Please contact us at info@wueinc.com and ask for this service.
What is the minimum order?
Our minimum is 12 pieces.
How do I know when my order is ready?
You will get an email as soon as your order is ready. As customer request, we can ship your order via UPS or the order can be pick up during business hours.
Mon-Fri.
9am -12pm and 1-5pm.
How to customize a baseball cap?
To customize a baseball cap with embroidery, first choose a cap that is either blank or has a simple design. Next, decide on the embroidery design you want to add to the cap. This can be a logo, a phrase, or a graphic.
Once you have your design ready, contact your favorite
embroidery shop
to stitch the design onto the cap. Make sure to choose embroidery thread colors that complement the color of the cap and the design you have chosen. Finally, wear your customized baseball cap with pride and show off your unique style.
Give us a call or drop by anytime, we endeavour to answer all enquiries within 24 hours on business days. We will be happy to answer your questions.
You are in advanced mode.
You can turn it off in left sidebar. To use advanced options, you will need to enter your own Google Maps API Key.
Get Google API Key