We narrow down the top t-shirt brands, materials and fit to help choose the right shirt.

CustomT-shirts with yourlogo are an effective way to promote your business or group. We narrow down thetop t-shirt brands, materials and fit to help choose the right shirt.
100% cotton is the most common material when doing t-shirt printing. There is a wide range of styles that come in 100% cotton, starting with one of the most popular basic shirts with a great price point and classic fit such as the Gildan 2000, Port and Company PC54 and the Fruit of the Loom 3930. These shirts are not the softest cotton tees in the market but they provide a very friendly price making them popular by groups, teams and companies as great promotional items.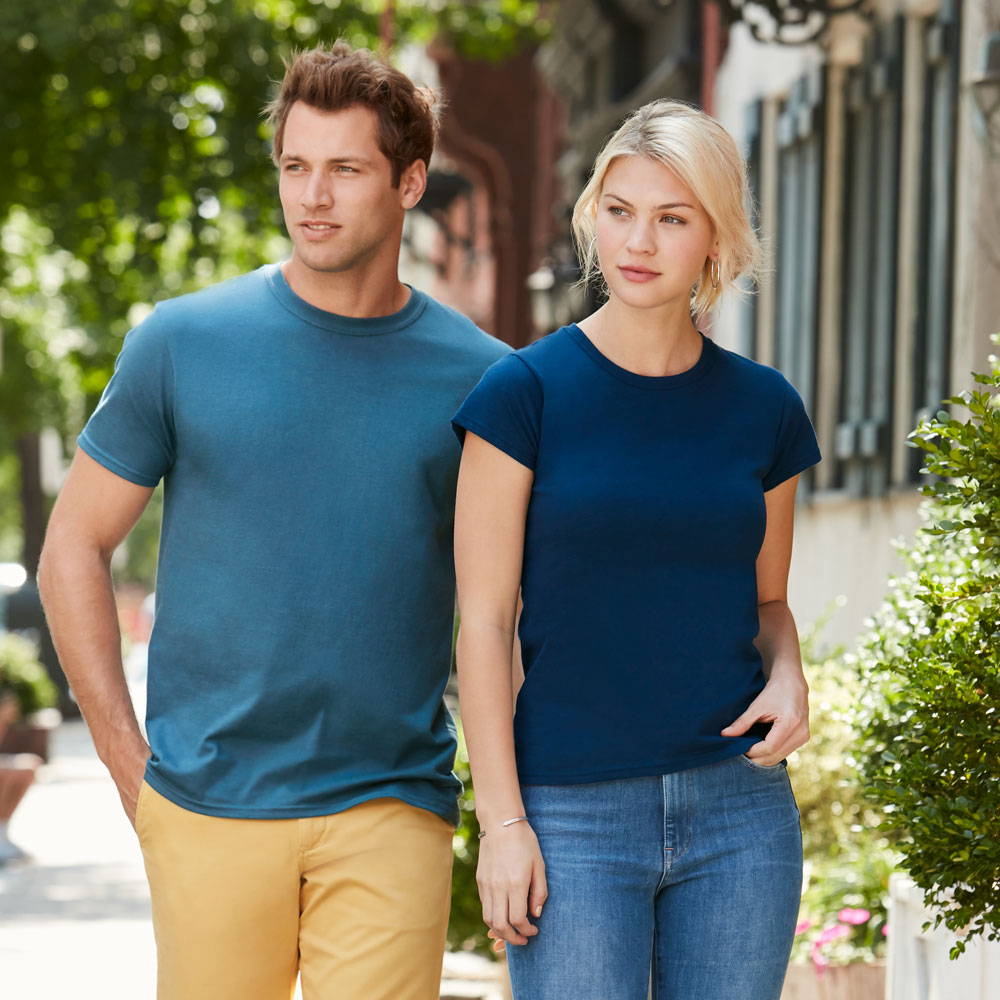 Moving up in quality with a softer material we find the Bella-Canvas 3001 and the Next Level 3600. Combed and ring spun cotton, tear-away label, side seamed, lightweight material, tailored fit and superior softness are a few of the advantages of these shirts, making them a preferred item by many of our customers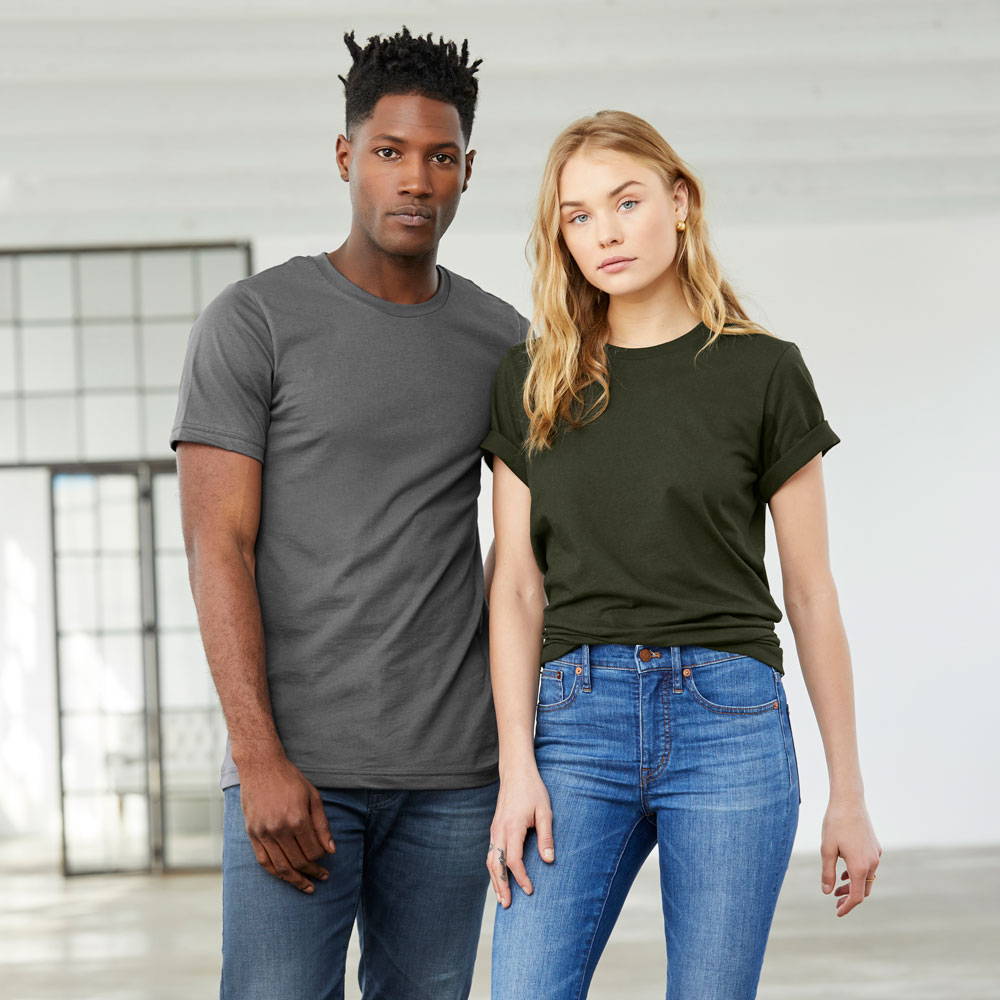 Answer these questions and we will suggest the best t-shirt options
Then we find a more resistant and heavier cotton t-shirt such as the Hanes Beefy-T 5180 and the Gildan Hammer T-shirt and the ever heavier Carhatt CTK87 pocket t-shirt. All these shirts provide great soft feel material and a classic relaxed fit.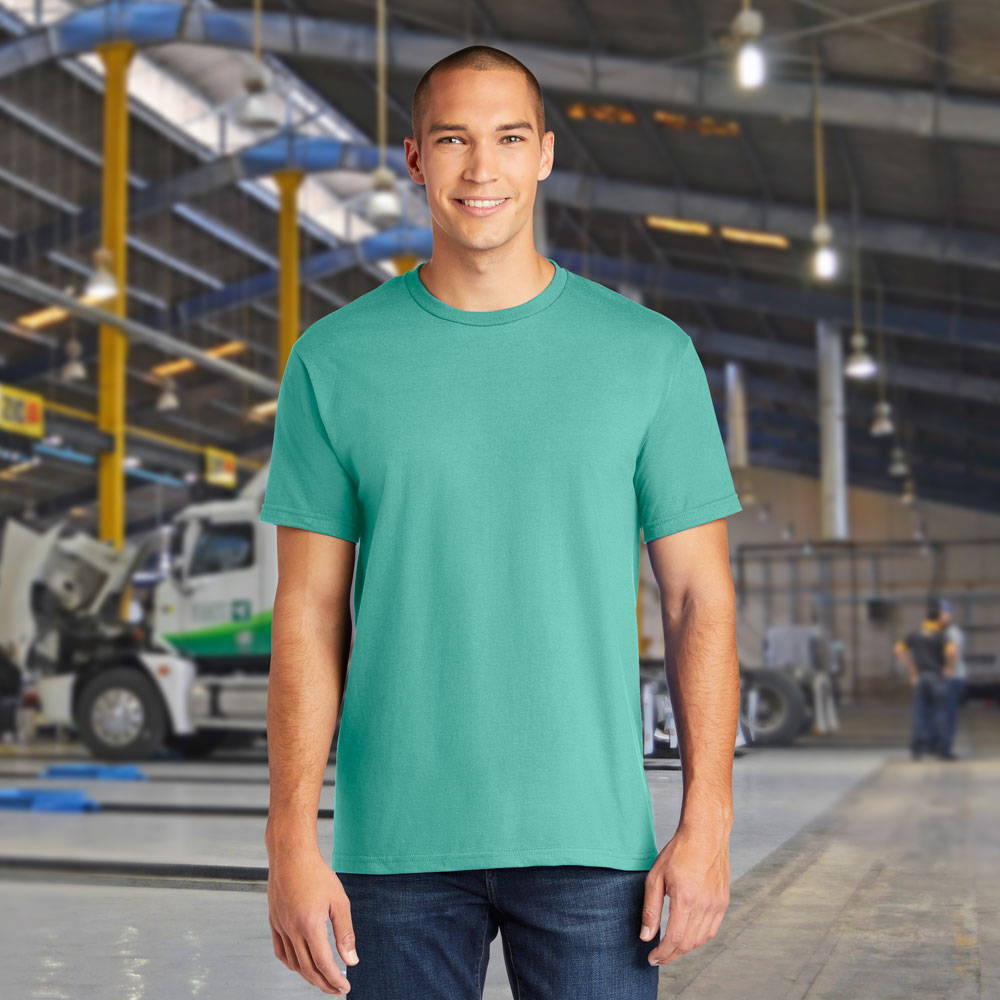 We all know cotton t-shirts tent to fade after many washes and some of them shrink a little. A great solution to both of these problems is the 50/50 and 65/35 cotton and polyester combination. Cotton provides the softness and breathability and Polyester adds the flexibility and durability. The 50/50 and 65/40 blend are fantastic fabrics that perfectly offers the best of both worlds.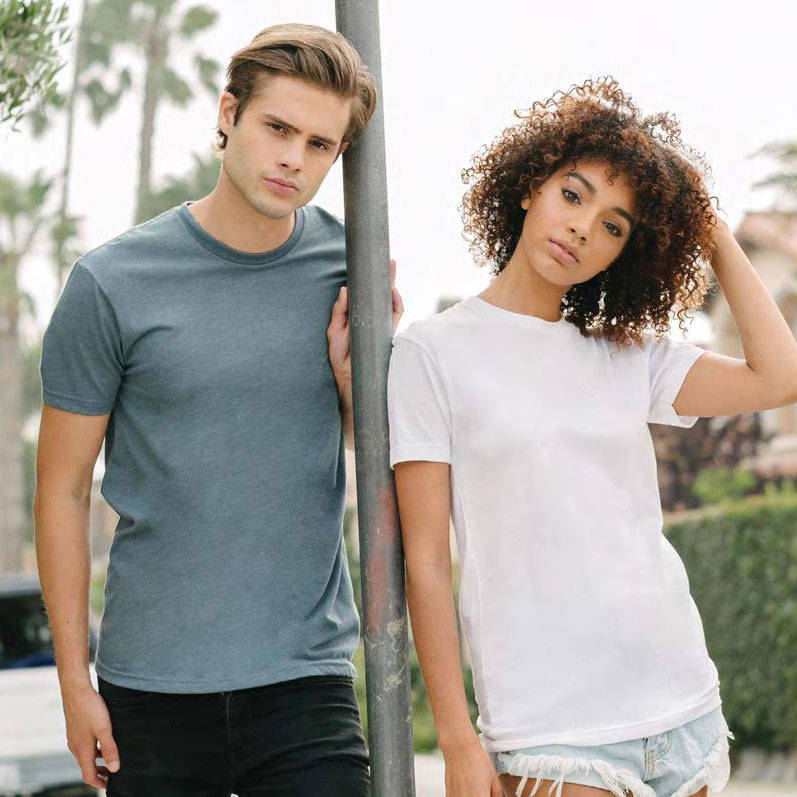 THE 60/40 POLY COTTON T-SHIRT
Poly Cotton blend t-shirts come in solid colors and they can also be heathered with drops of grey and black due to the unique blend, heather colors provide a great vintage look.Some of the basic styles of the 50/50 t-shirt are the Jerzees 29M and Gildan 8000, both with a classic fit and very friendly price.
Better options with much softer feel and tailored fit arethe Bella Canvas 3001CVC and the Next Level 6210.
Another great advantage to these shirts, is that you can achieve great looking vintage prints.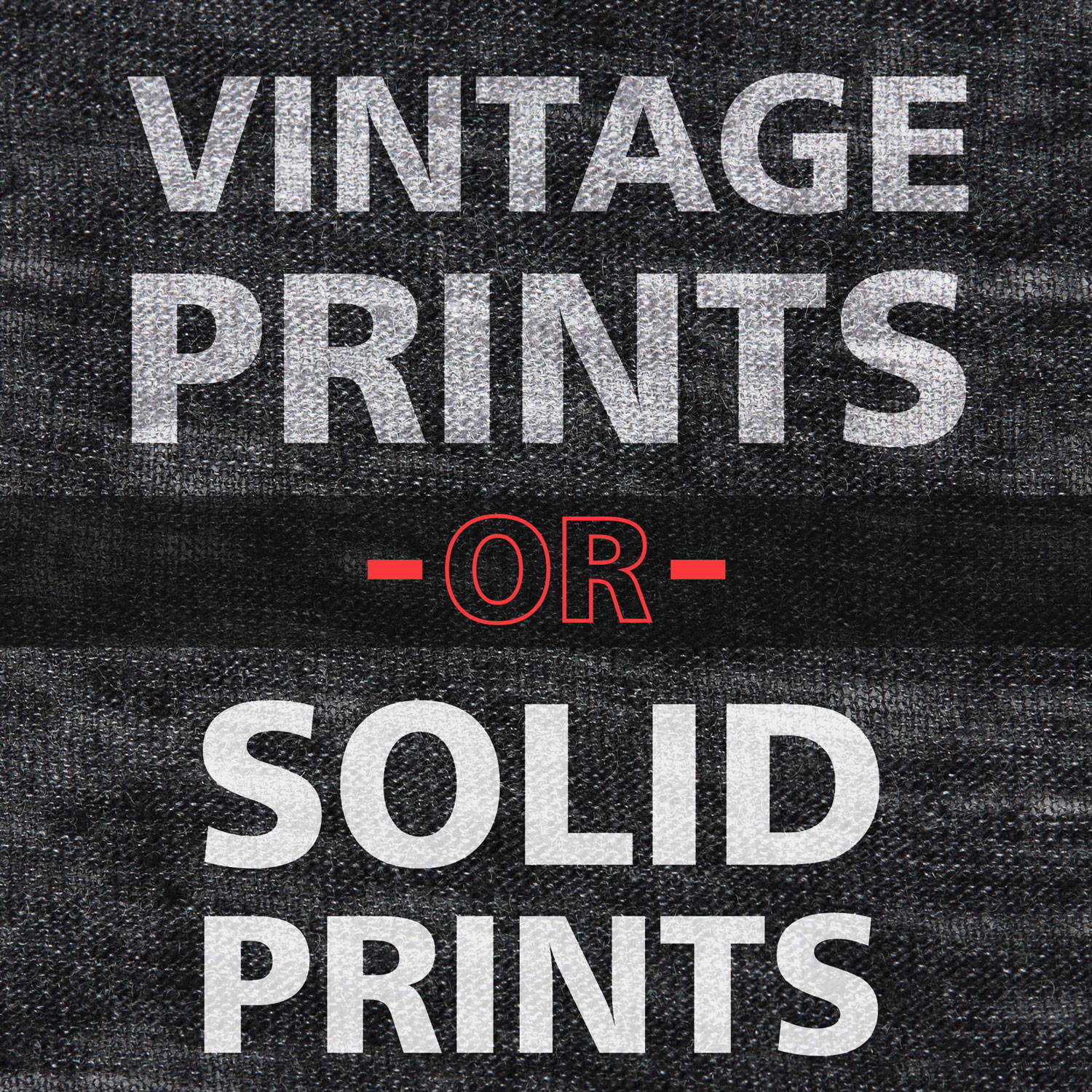 Last but not least we find another popular fabric for printing which is the Tri-Blend. A Tri-Blend is a fabric made up of three different materials: cotton, polyester, and rayon. Rayon by itself does not make for a great t-shirt because of how light, thin, and drapey it would be, but combined with cotton and polyester it makes for nearly the perfect garment. This material makes one of the softness shirts on the market.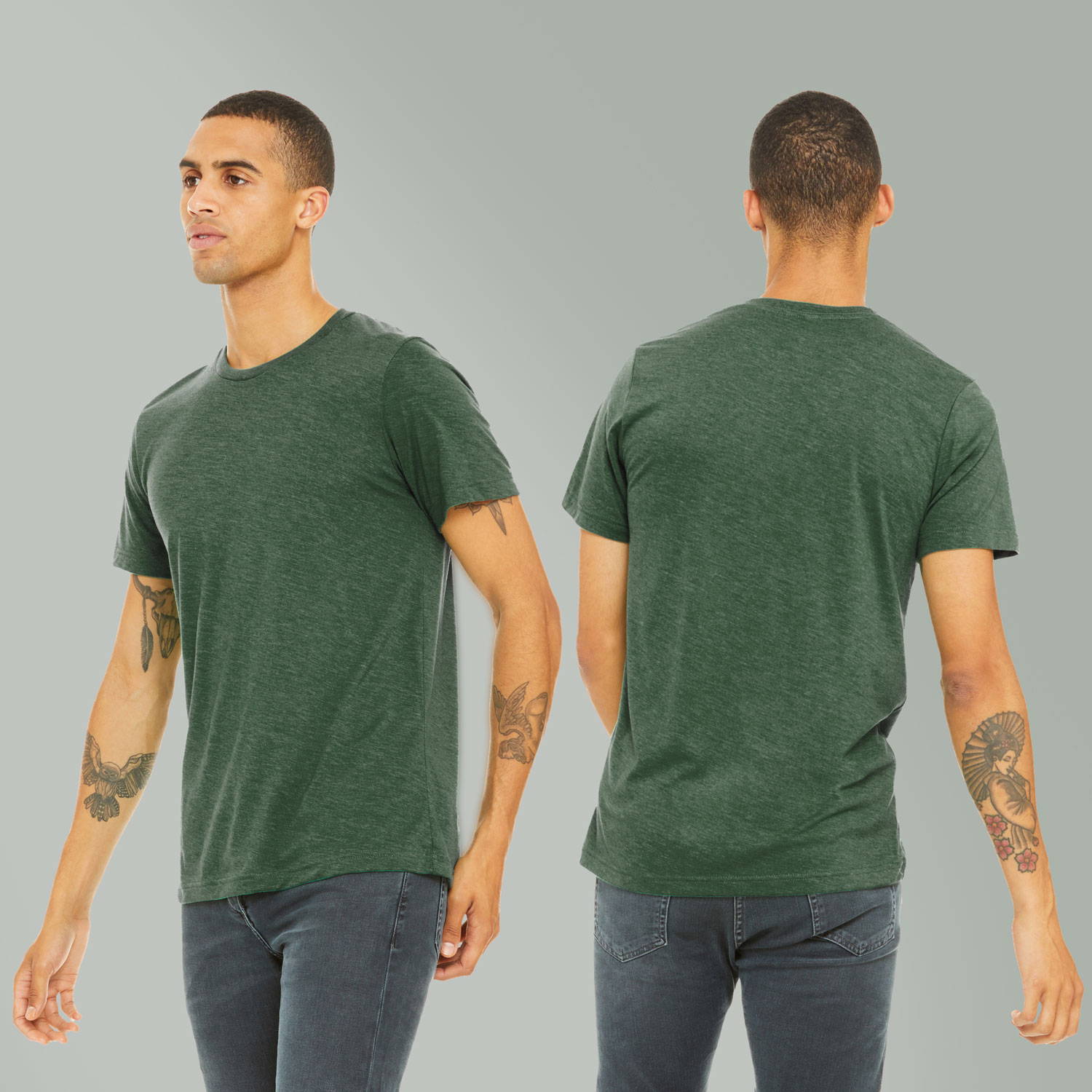 The most popular styles are the Bella-Canvas triblend 3413 and the Next Level 6010. Both of these tees come side seamed and a tailored fit.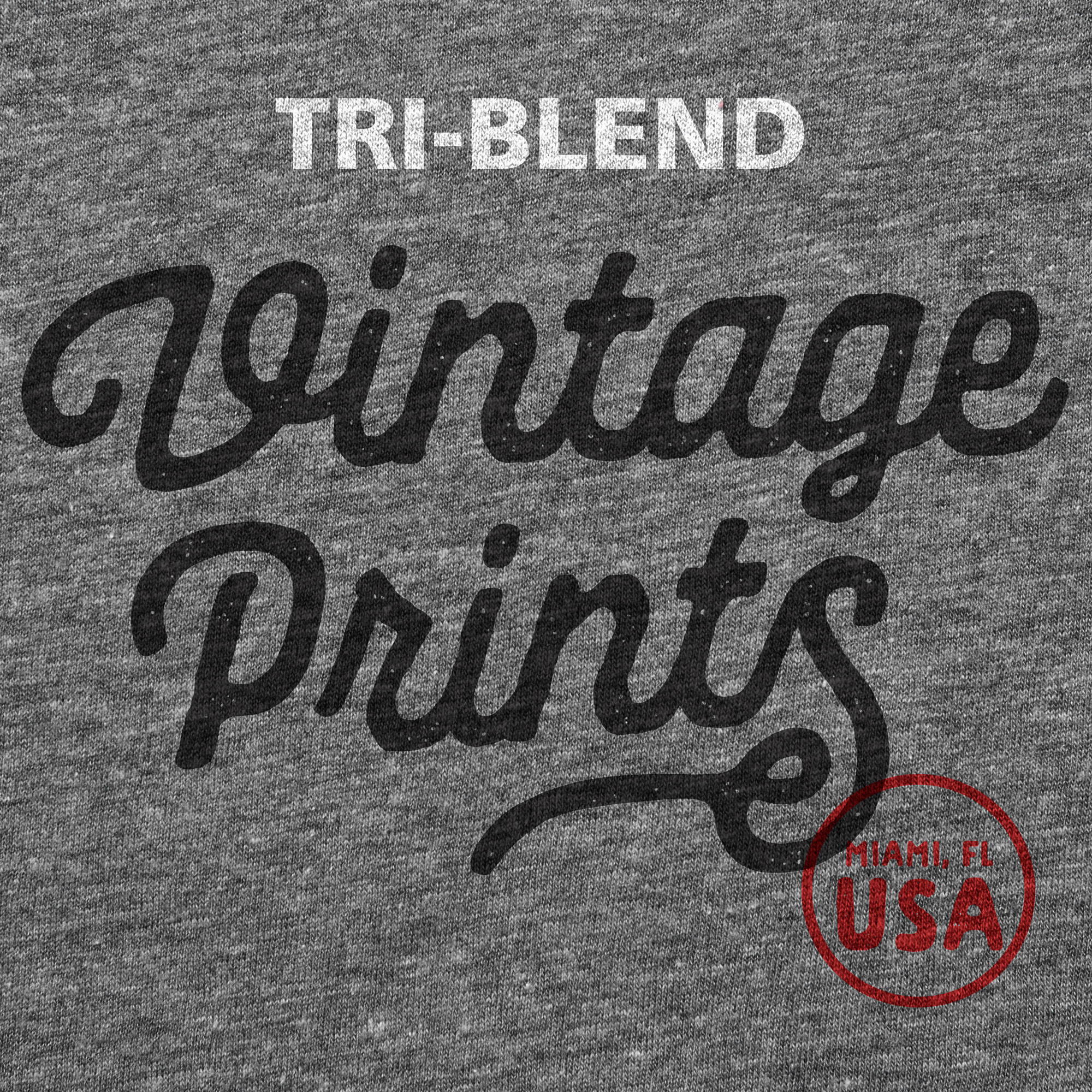 COMPETITOR TEE
100% POLYESTER
Sport-Tek ST350
Lightweight, roomy and highly breathable, these moisture-wicking, value-priced tees feature PosiCharge technology to lock in color and prevent logos from fading.

BEACH WASH
GARMENT DYED TEE
Port & Company
PC099

This tee is unique and incredibly soft with a worn-in, vintage look. Starting with a prepared-for-dye blank and cotton thread ensures vibrant color and a standard fit after washing.

GET 12 CUSTOM TEES FOR ONLY $99.99
+ FREE SHIPPING!
Order the classic Gildan cotton tee style 5000
Join us to get unlimited access to the our weekly offers