Screen printing has become an increasingly popular way to create custom t-shirts, making it a go-to method for many apparel businesses. Thanks to this versatile printing process, custom designs can easily be transferred onto any fabric surface.
The ability for custom printed designs to be placed on virtually any material make screen printing a useful asset in various industries, especially those specializing in custom clothing. As production costs can remain low while creating high-quality prints, organizations such as schools and charities often utilize custom t-shirts made through the screen printing process.
Many businesses have also been able to capitalize on the versatility offered by this type of printing, allowing them to print posters, artwork and other items with ease. Screen printing is no doubt here to stay as a tool used across the globe by millions of people wanting custom printed items of all kinds.
Customize your own custom
T-Shirt
Get high-quality t shirt printing done by experts. More than 15 years in business. We offer affordable prices that will be perfect for to promote your company with a professional look.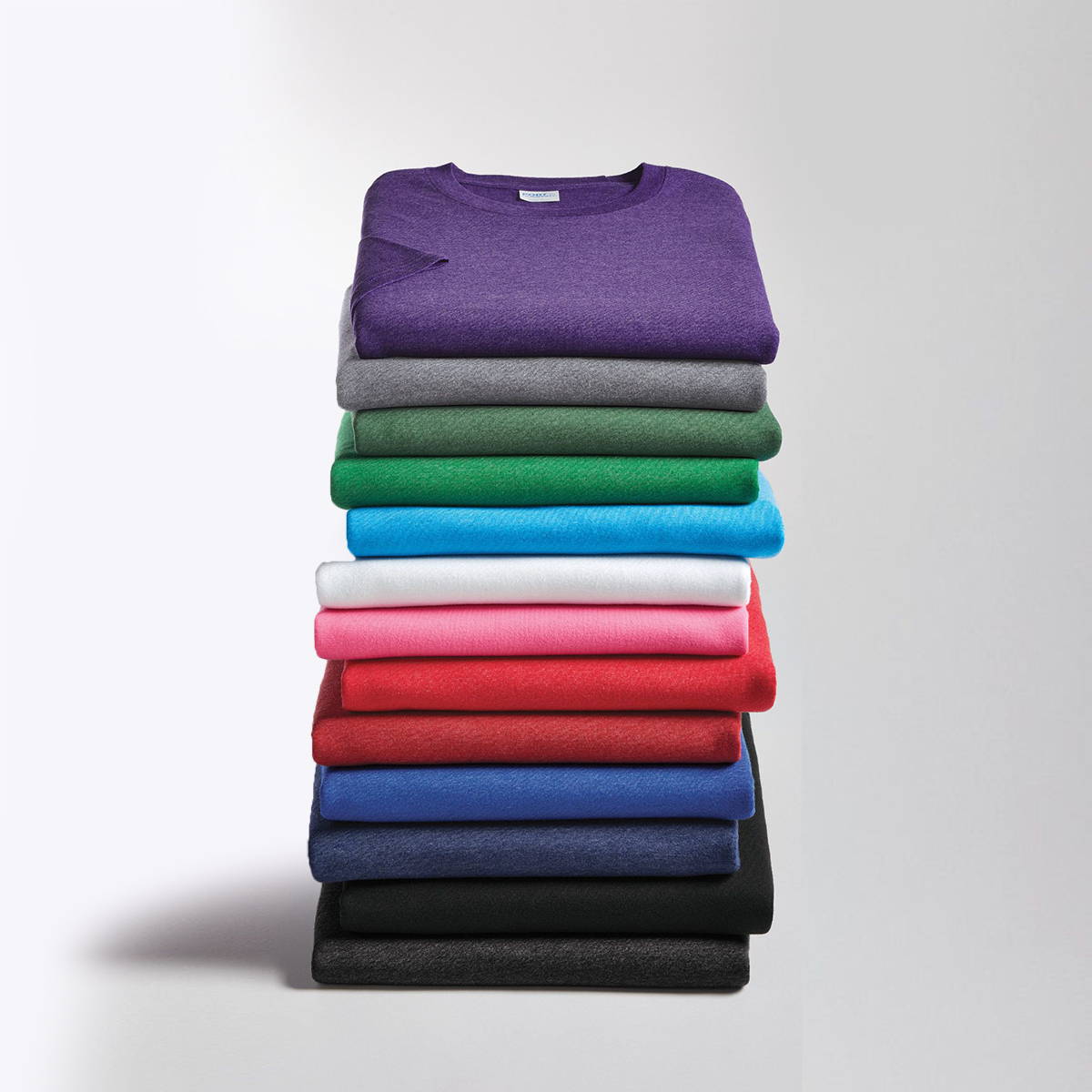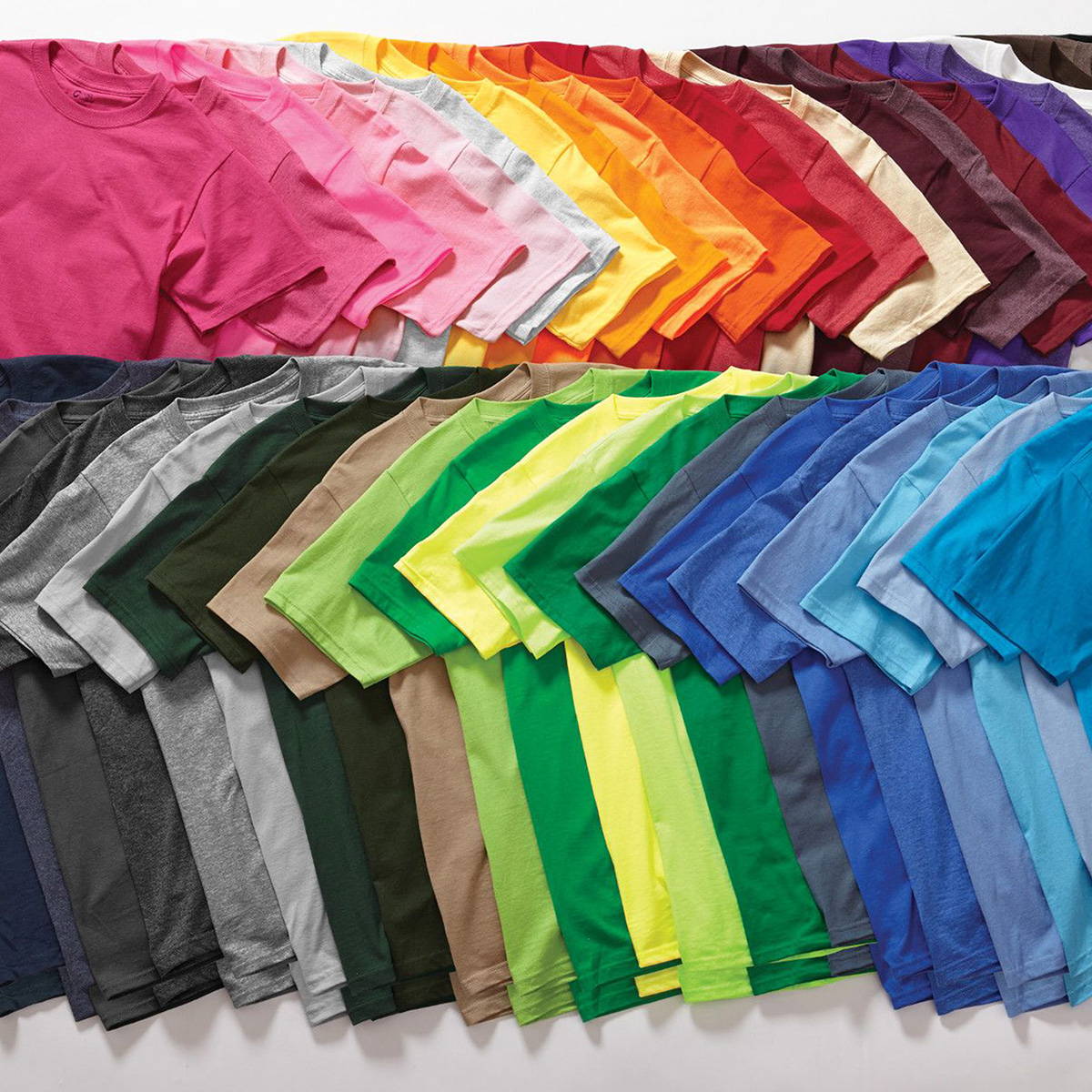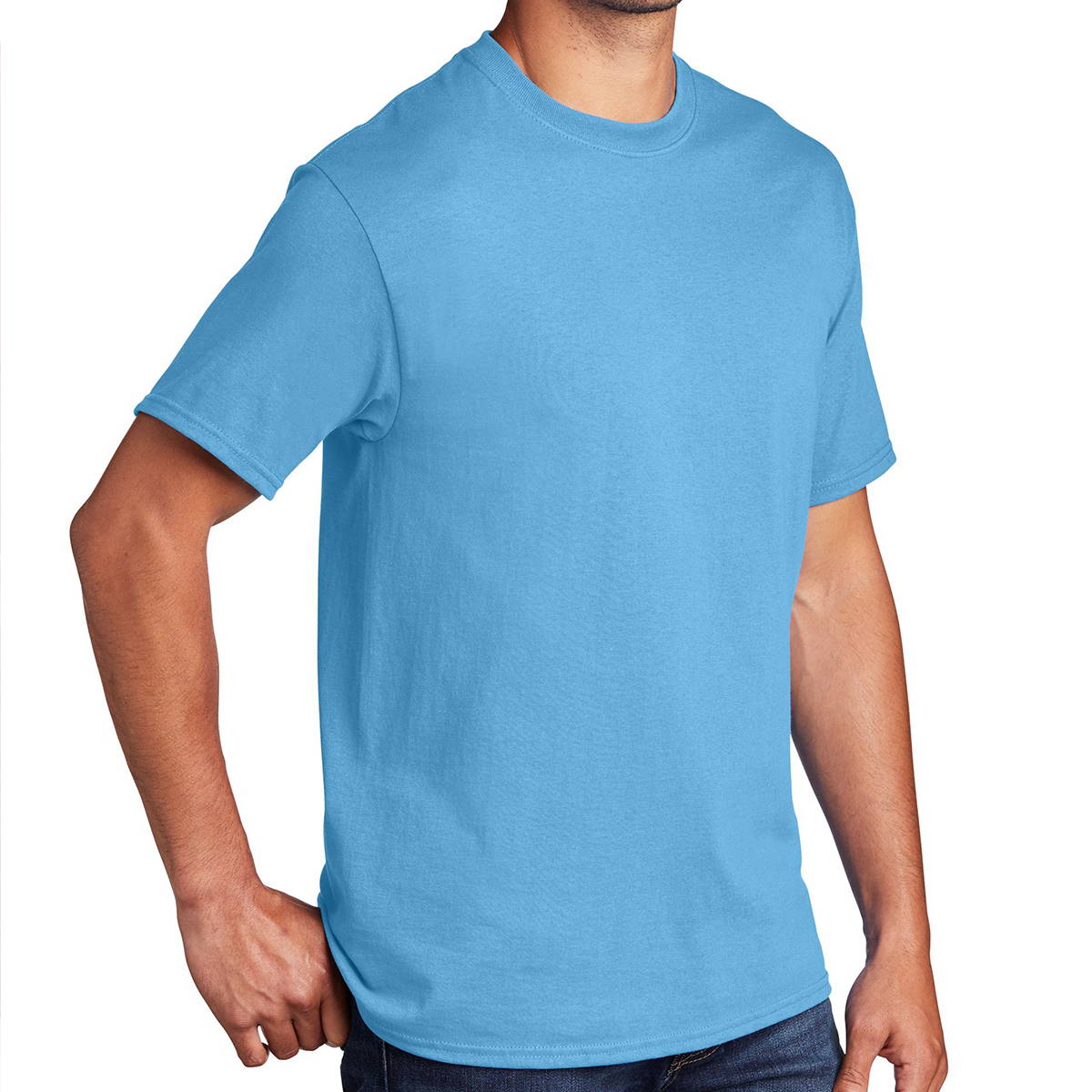 100% cotton T-shirts are the classic go-to when it comes to casual clothing. Not only are they incredibly comfortable, they're also incredibly durable and can stand up to years of wear and tear. Cotton is a natural fiber that breathes easily, which helps keep you cool in hot weather and warm in cold weather.
Available:
Ladies, men and youth sizes.
Short and long sleeve.
Crew neck and v-neck.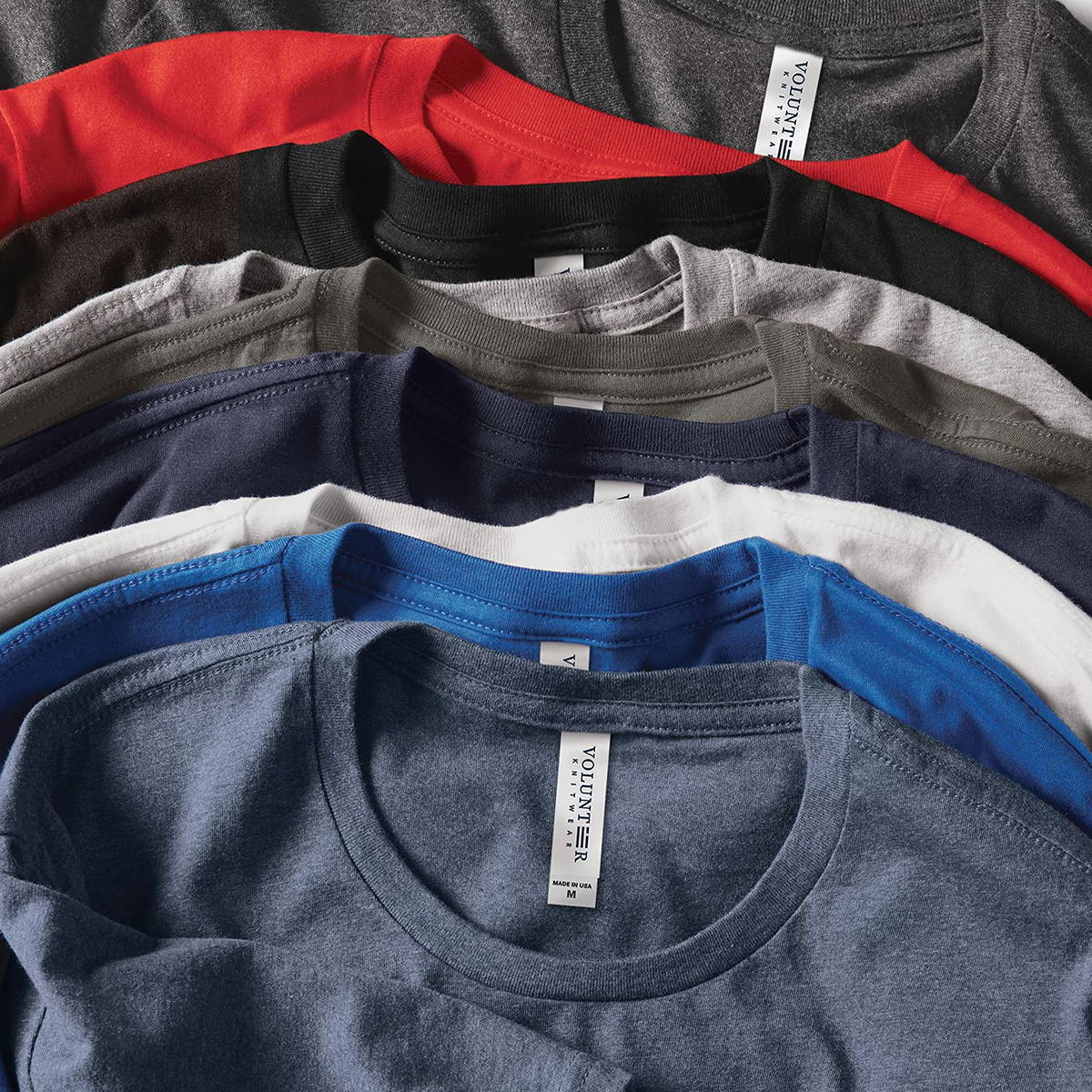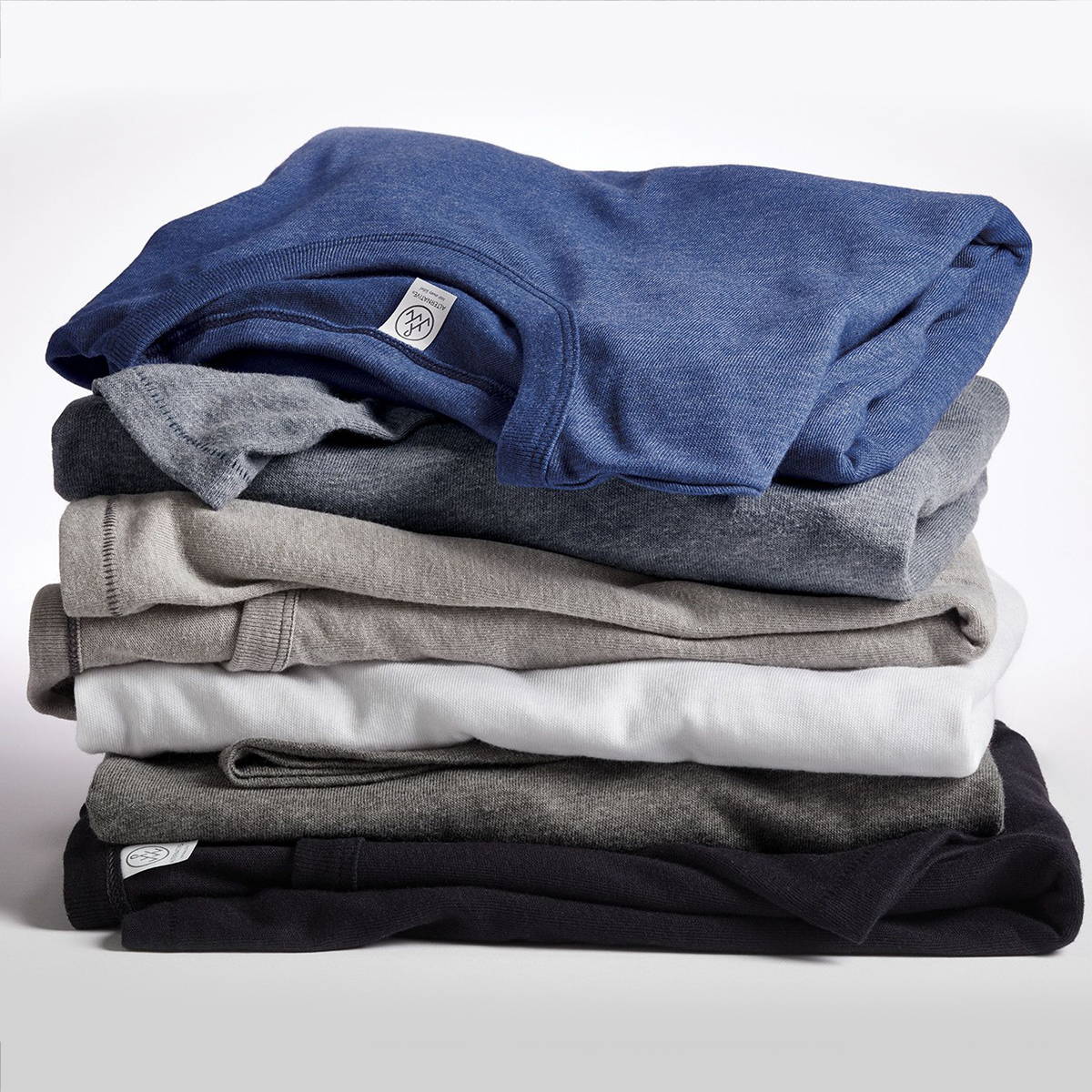 Poly Cotton 50/50 or 65/35 blend t-shirts are the perfect blend of comfort and style.
The polyester provides a lightweight, breathable fabric that is durable and wrinkle resistant, while the cotton provides a softness that makes it comfortable against the skin. This combination allows for an ideal fit and feel for everyday wear.
Poly Cotton T-shirts are available in a wide range of colors and styles, so you can easily find the perfect look to match your individual style. Whether you prefer a simple crew neck design or an eye-catching graphic print, these t-shirts have something for everyone.
Available:
Ladies, men and youth sizes.
Short and long sleeve.
Crew neck and v-neck.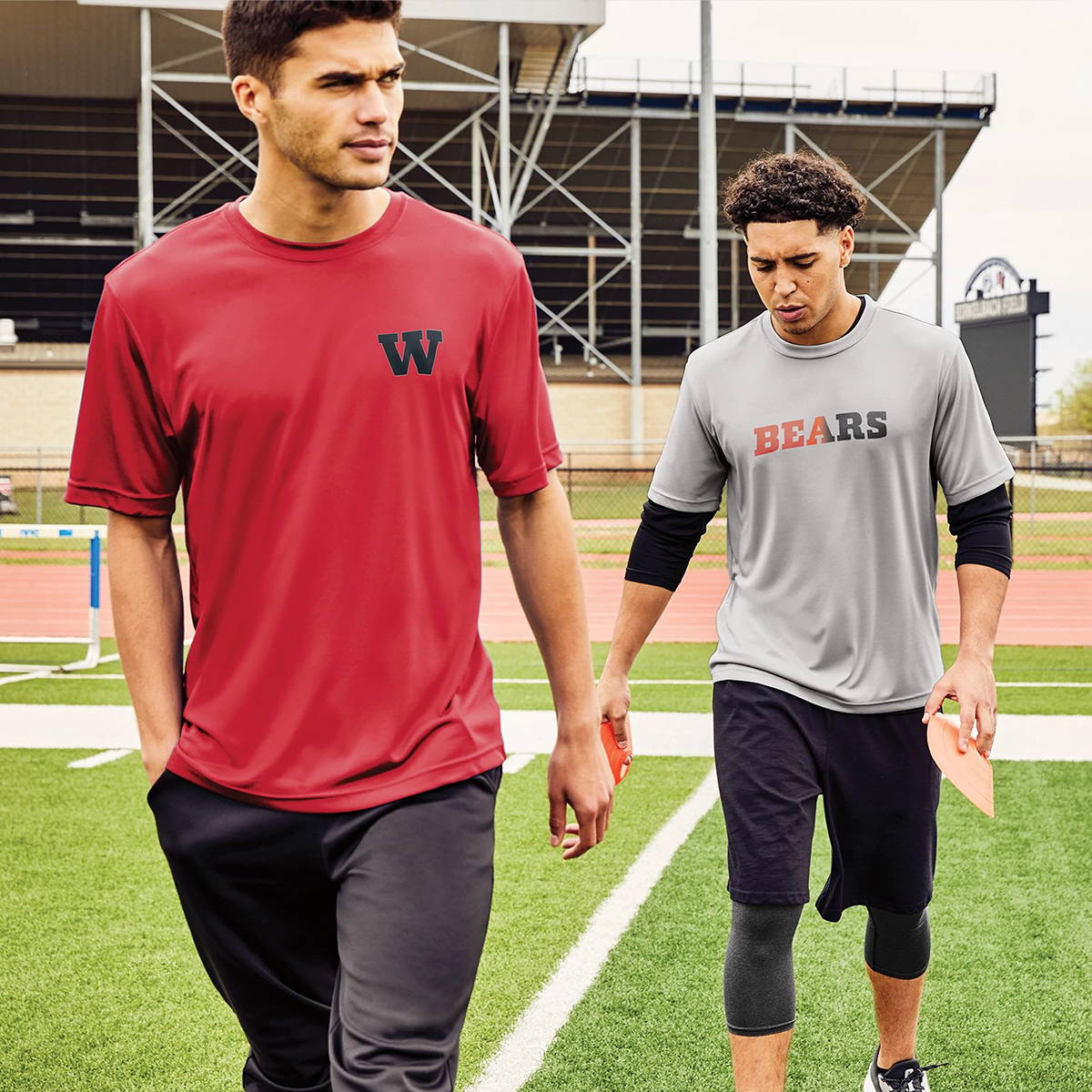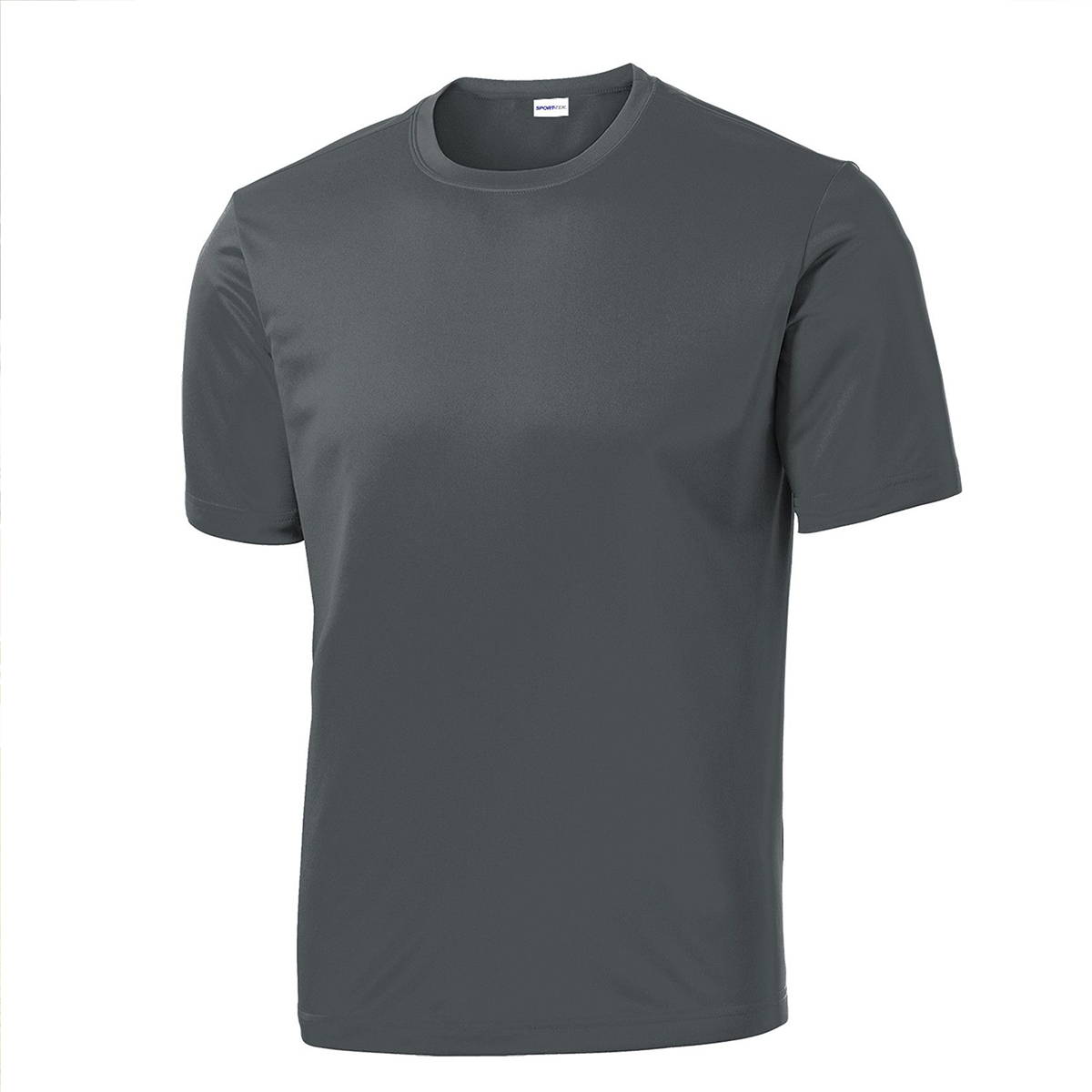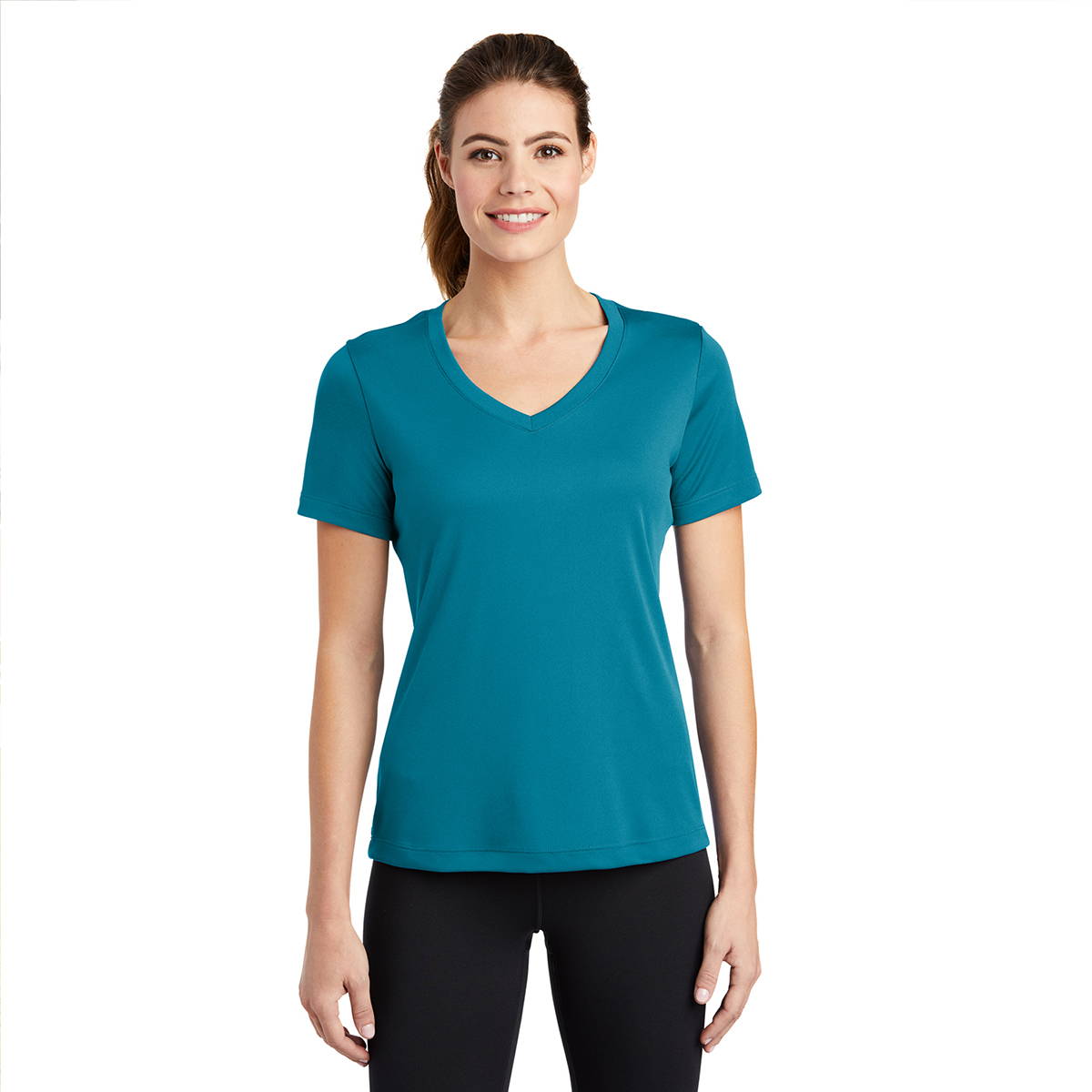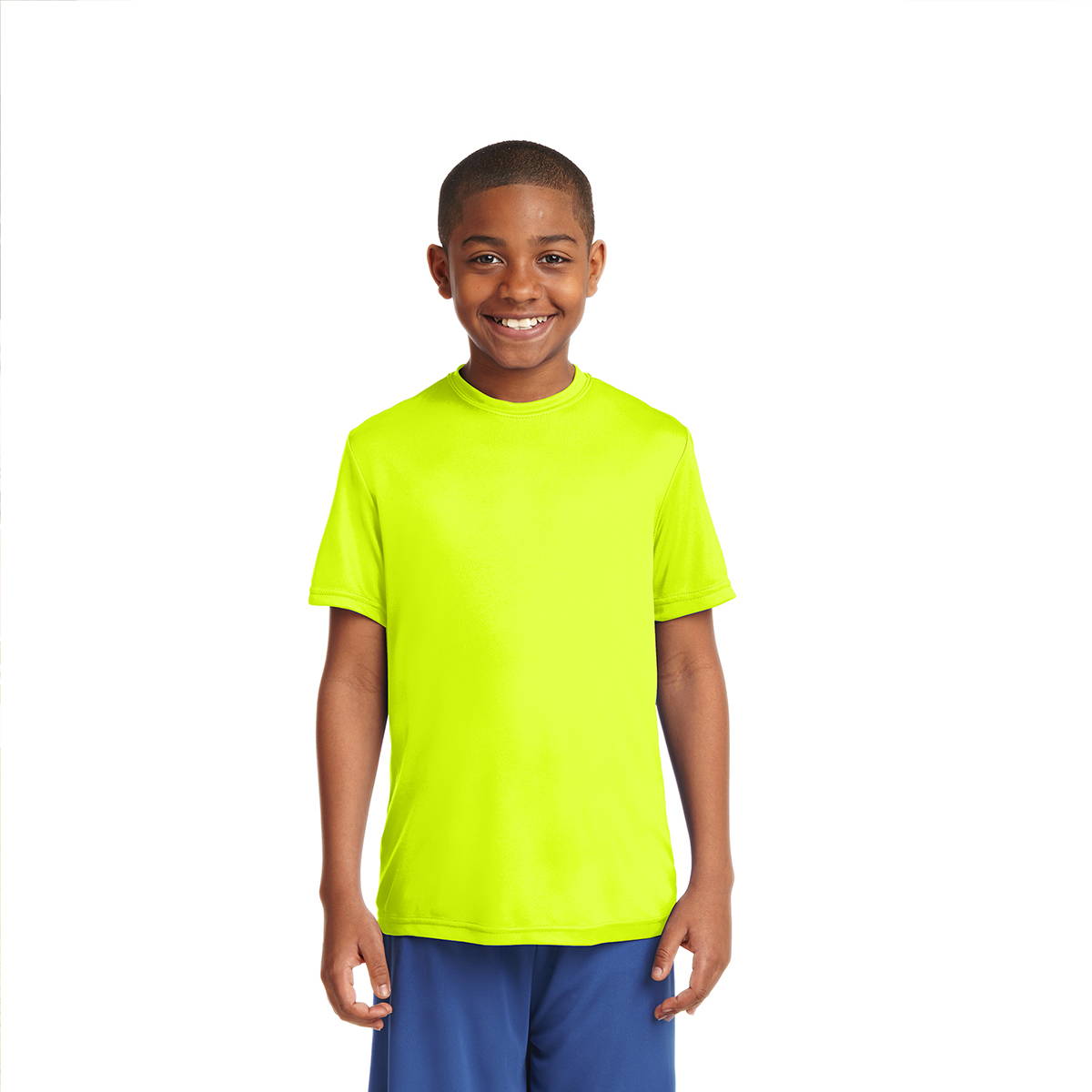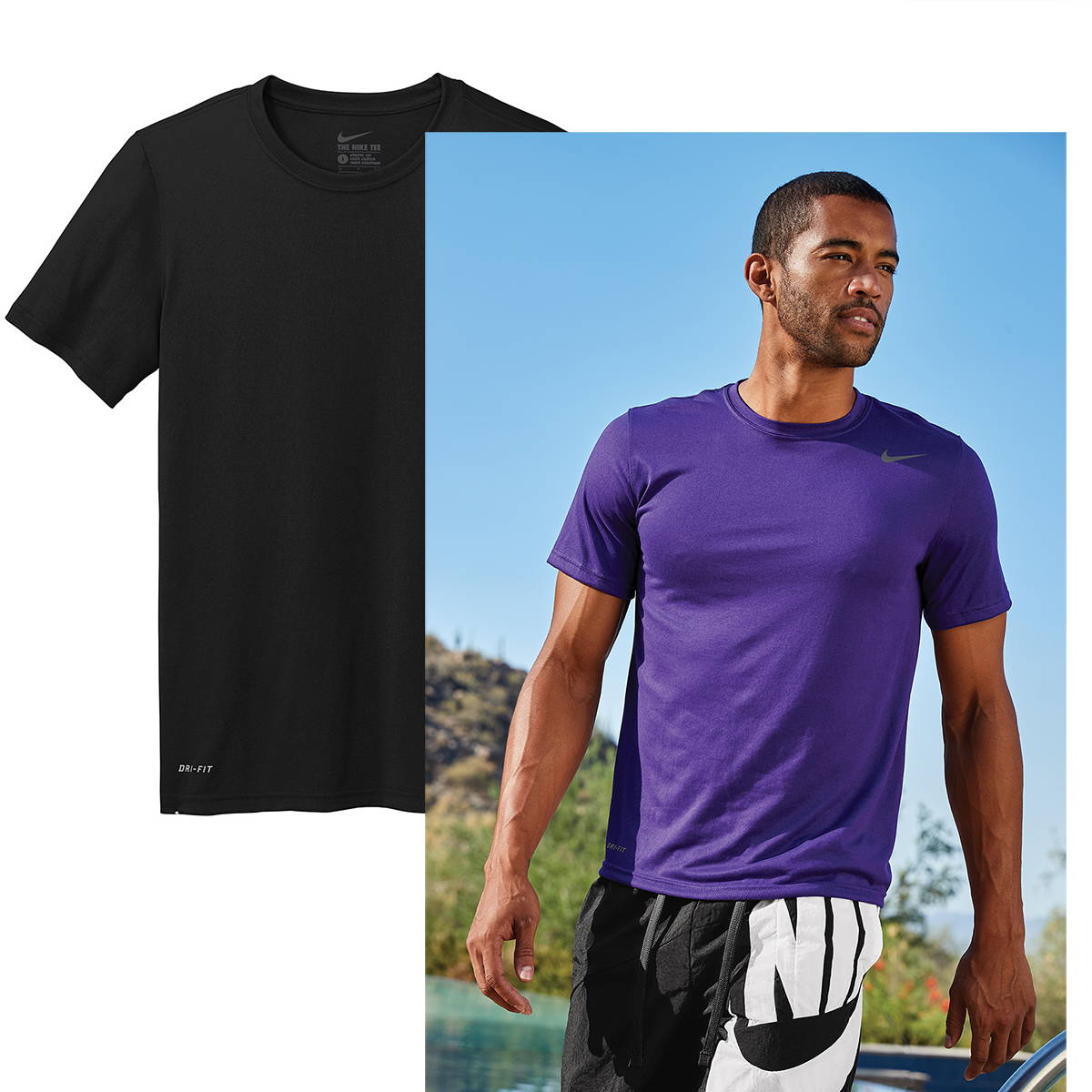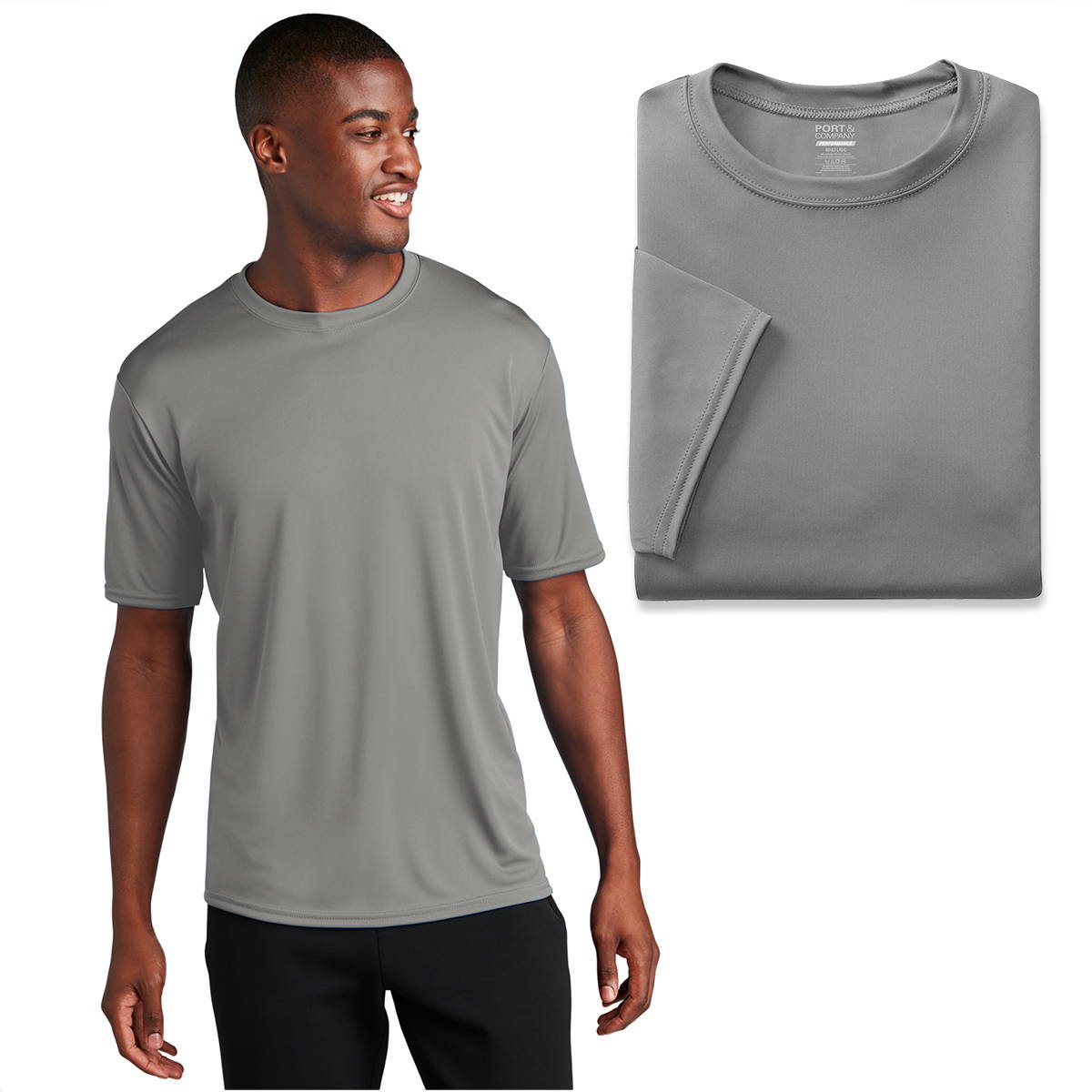 Performance t-shirts are a great way to stay comfortable, stylish, and cool even during the most strenuous physical activities. Crafted from breathable materials such as polyester and spandex, these t-shirts are designed to wick away sweat and keep you dry, no matter how intense your workout gets. Not only do performance t-shirts look great, but they also offer a wide range of benefits for athletes and fitness enthusiasts alike.
Whether you're looking to improve your performance during intense cardio workouts or take your training to the next level with strength training, performance t-shirts are an ideal choice. With their comfortable fit and variety of styles and colors, these shirts are perfect for all types of activities, from running and cycling to lifting weights and playing team sports. And with many top brands offering performance apparel for men, women, and children, you can find the perfect t-shirt to match your needs and wardrobe.
Available:
Ladies, men and youth sizes.
Short and long sleeve.
Crew neck and v-neck.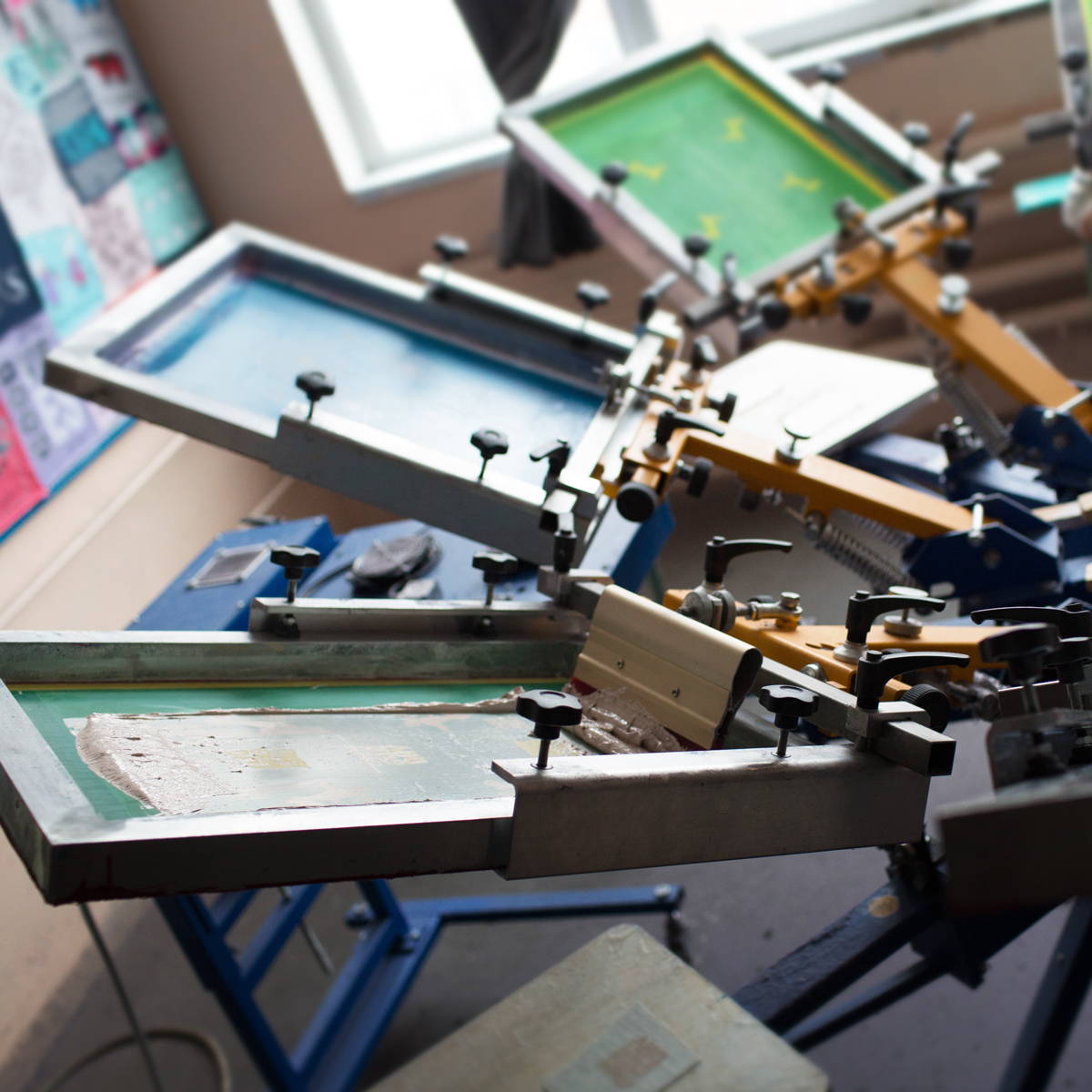 How To Make Custom T Shirts
Screen printing is the most common technique when it comes to produce custom t shirts. For each color in the design, a screen is made, and the ink is then applied to the t-shirts using the screens. The design is first produced, and then it is burned using a light-sensitive emulsion onto a screen. The screens are then mounted on a press, and a squeegee is used to apply ink on the screens. In order to transfer the ink from the screen onto the fabric, the t-shirts are placed on the press, and the screens are pressed down onto the shirts. Each color in the design goes through this procedure again.
Heat transfer vinyl, is a type of material that can be used to transfer designs onto t-shirts. It consists of a vinyl sheet that has a heat-activated adhesive backing. To use it, you will need to cut out the design from the vinyl sheet using a vinyl cutter. Once the design is cut out, you can weed out the excess vinyl, leaving just the design. The design is then placed onto the t-shirt and a heat press or iron is used to transfer the design onto the shirt. The heat activates the adhesive on the back of the vinyl, causing it to bond with the fabric of the shirt. Heat transfers vinyl is a quick and easy way to create custom t-shirts, numbers and names.
Direct-to-garment (DTG) printing is a technique that uses inkjet technology to print a pattern directly onto a t-shirt. A specific DTG printer is used to print the design onto the shirt after it is developed on a computer using a program like Adobe Illustrator or Photoshop. Like a typical office printer prints onto paper, the printer uses inkjet printheads to apply the ink directly to the fabric of the shirt. DTG printing is a fantastic choice for making small numbers of t-shirts since it allows for a high level of detail and color accuracy. DTG printing is quick and simple because screens don't need to be set up and we can easily print low shirt quantities.
How To Choose The Right T-Shirt
When it comes to screen printing custom t shirts, choosing the right shirt is essential. The type of shirt you choose will determine how your design looks when printed and how long it lasts. There are a few things to consider when selecting the perfect shirt for screen printing: material, fit, color, and size. Understanding these factors can help ensure you make the best decision for your screen printing needs. However, choosing the right shirt for screen printing can be a daunting task. In this blog post, we will walk you through the process of choosing the right screen printing t-shirt, from considering your design options to finding a high-quality shirt that will last for years to come.
We narrow down the top t-shirt brands, materials and fit to help choose the right shirt.

How to print on T Shirts?
To start the order process, please fill out the
quote from
in this page and we will reply with our best shirt options for you to choose.
If you include your logo we will send a quote with a digital sample for best reference. (see samples below).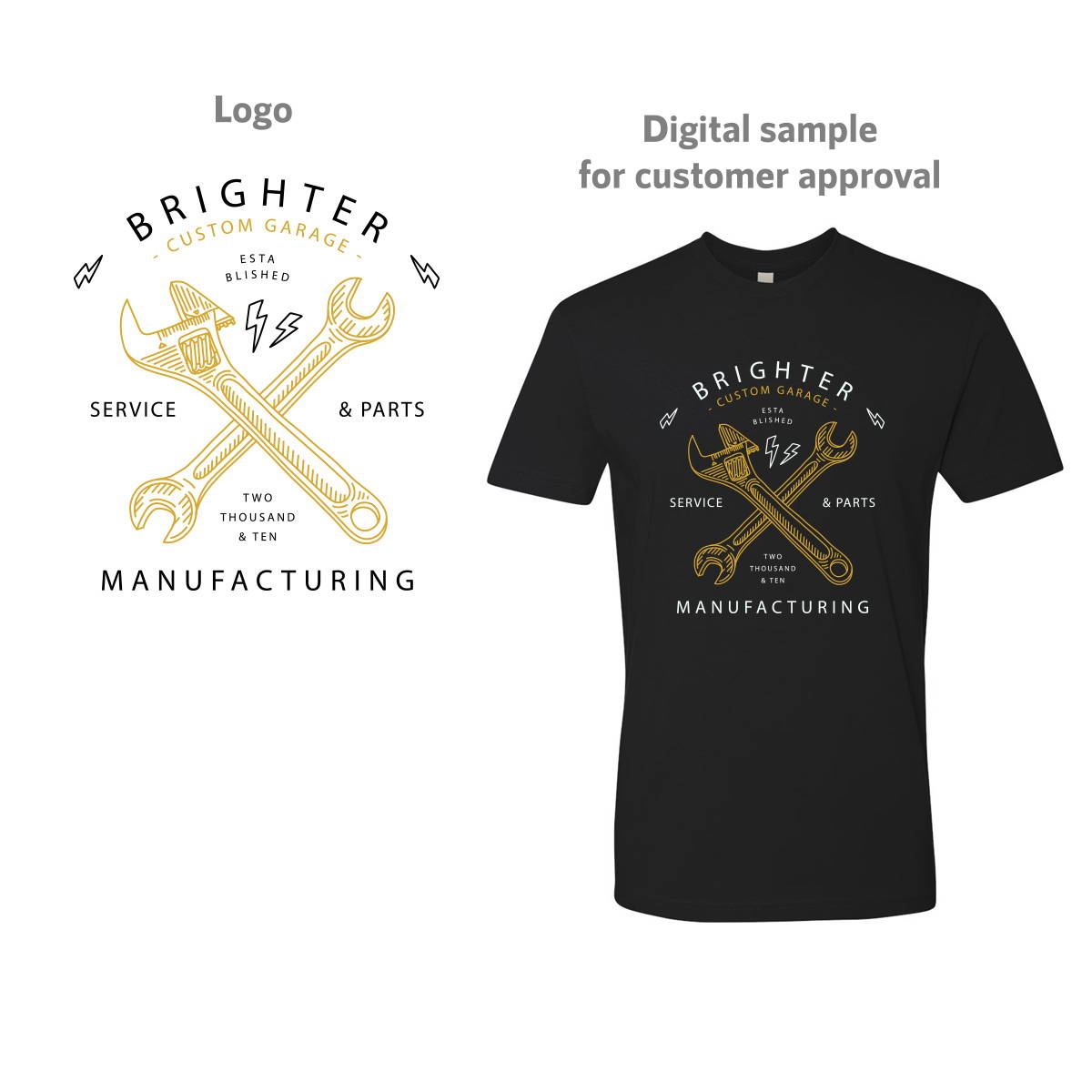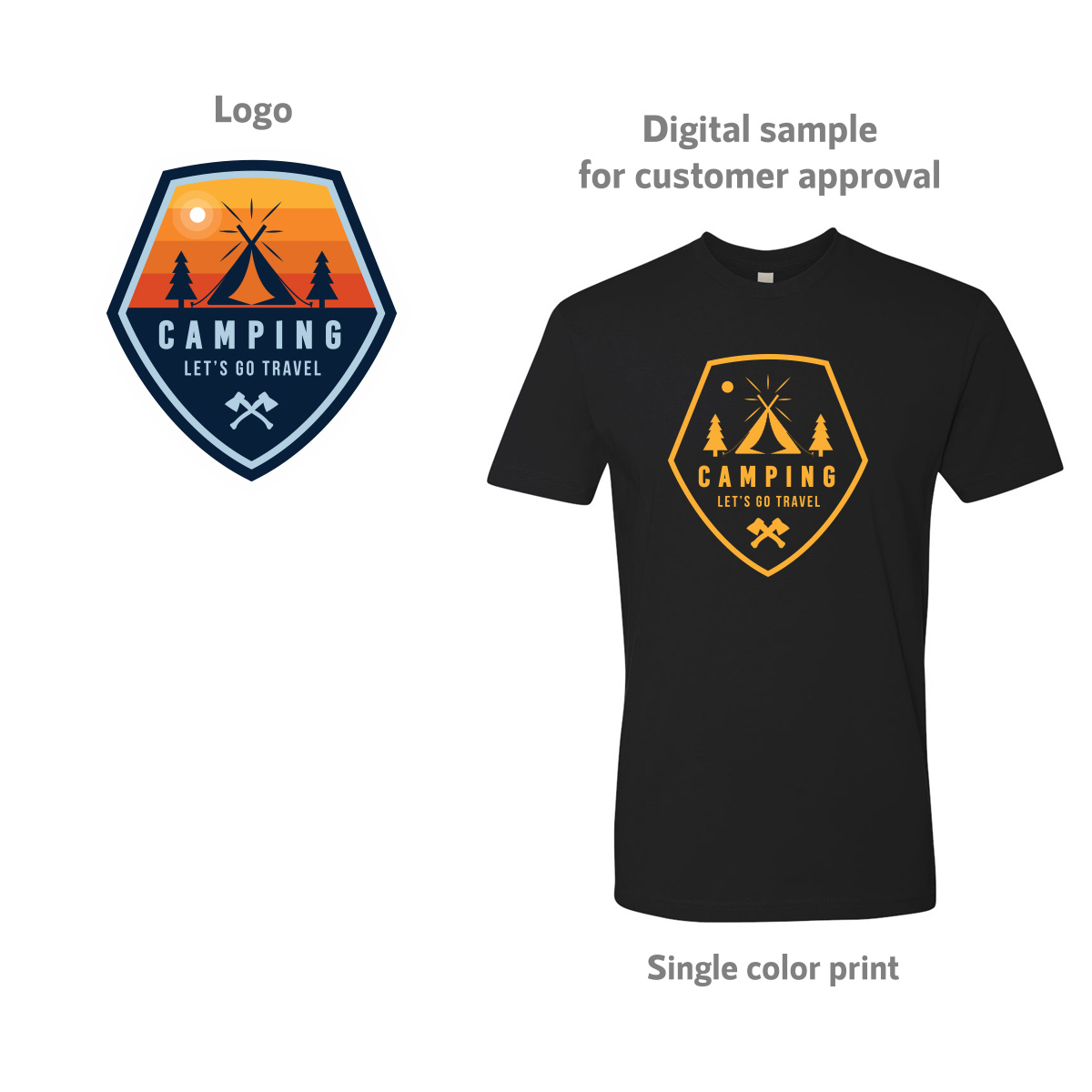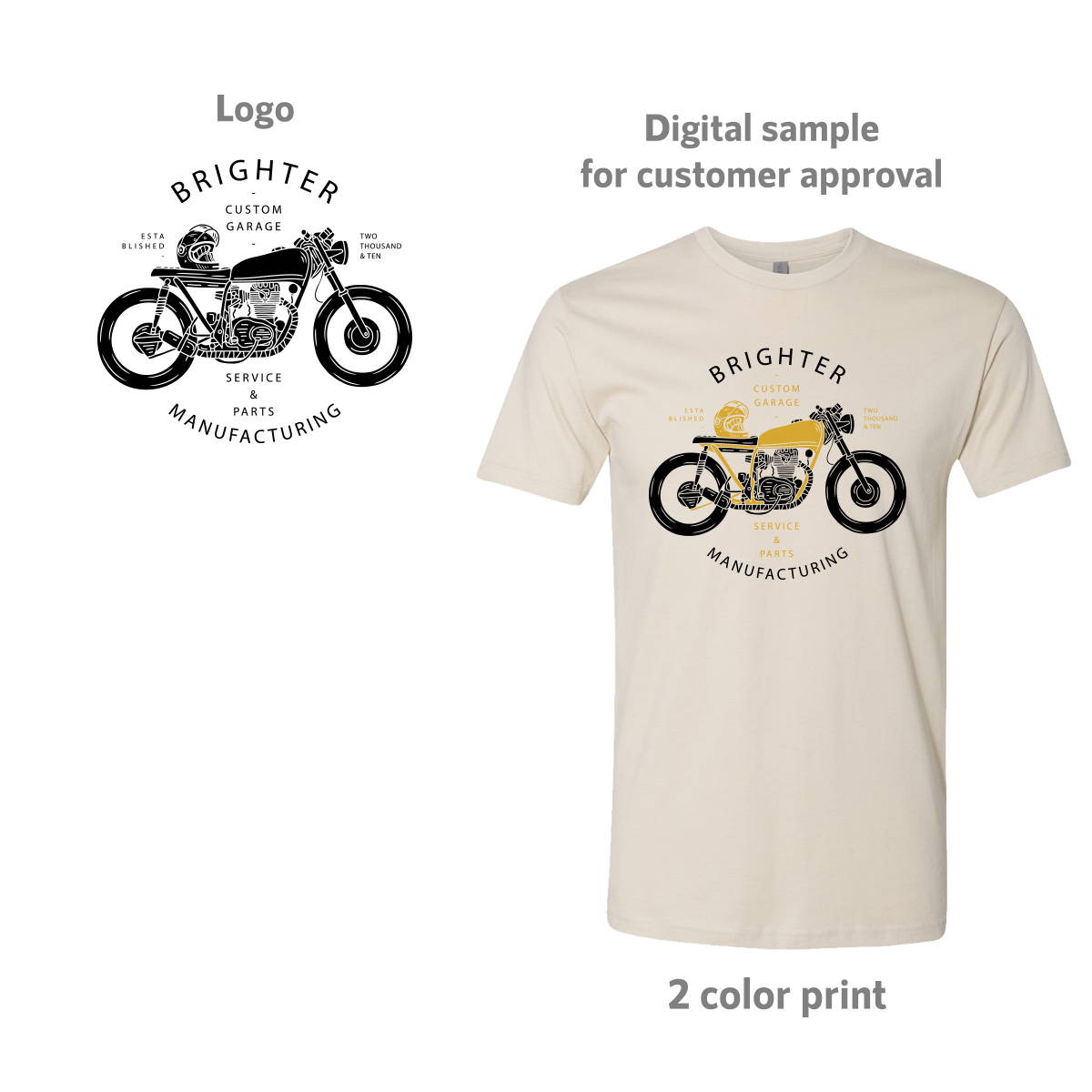 How long does an order take to be completed?
After sample is approved and payment is made by the customer, orders are ready in 1-2 weeks. Our team will send an email to notify you as soon as the order is ready.
What if I have a low resolution artwork?
It is important to for us to have a logo that looks sharp so we can deliver a crisp and professional print on your shirts.
We offer logo vector logo recreation. Send us your artwork and we will make sure you get a high quality print!
Before
After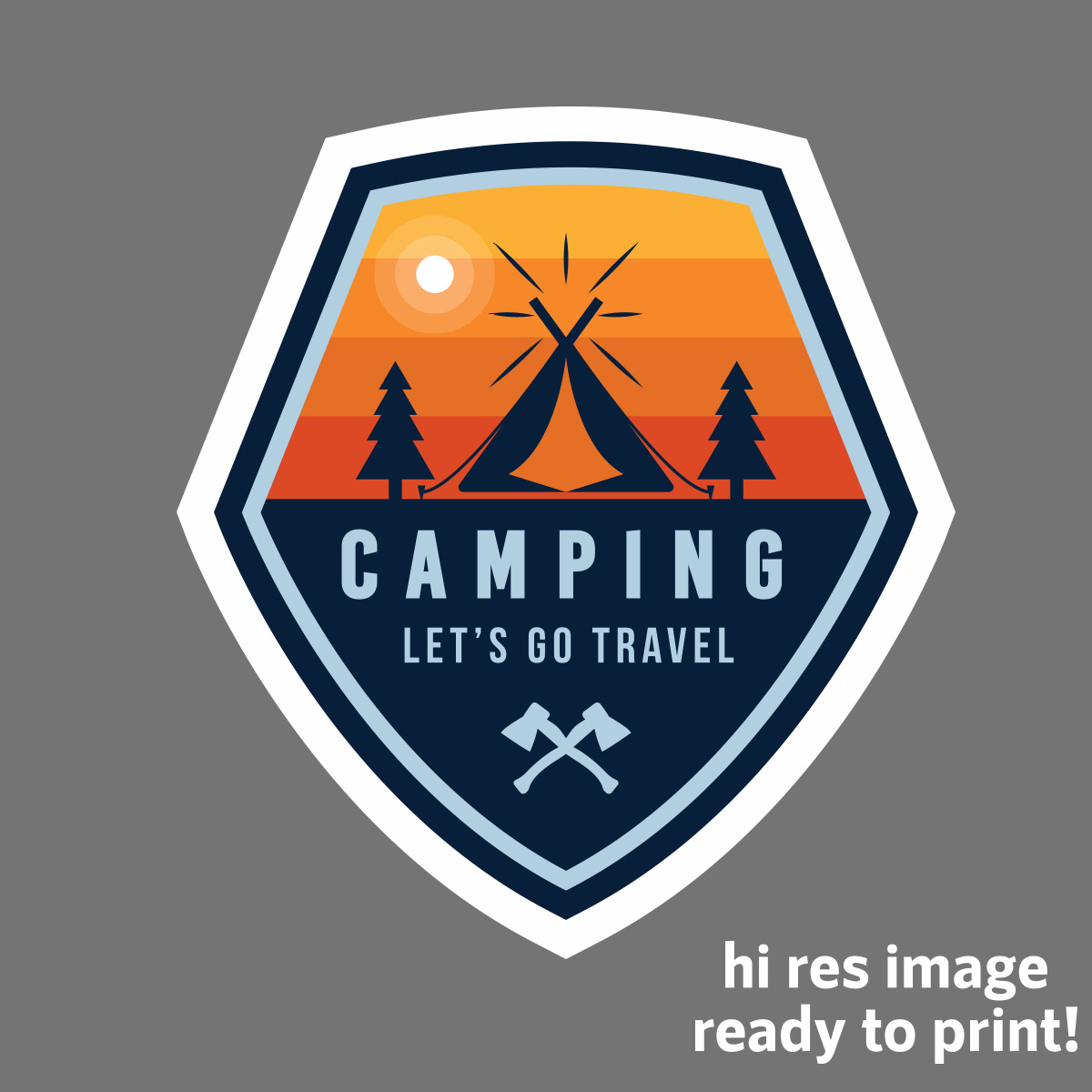 Will I be able to see sample before production?
When we send a quote we include pictures for your approval. We only start production after we receive customer approval.
Screen Printing
shirts is a great way to create custom apparel with your own design, logo, or slogan.
The process of screen printing involves creating a stencil – typically made of mesh stretched over a frame – that ink is pushed through onto the fabric of the shirt. This process can be done either manually or with the help of a press machine, depending on the size and complexity of your order.
Each print color on your design requires a screen and this is why shirts with multiple color designs cost more than single color print shirts.
What is the minimum order?
Our minimum order for screen printing is 12 pieces.
Do you ship orders nationwide?
We do! we offer nationwide shipping with UPS and we provide tracking numbers as soon as the order is shipped.
How do I know when my order is ready?
As soon as your order is ready, you will get an email confirmation with a note that your order is ready for pick-up at
our location
.
If customer request is shipping via UPS, we will provide a tracking number as soon as the order is ready.
Give us a call or drop by anytime, we endeavour to answer all enquiries within 24 hours on business days. We will be happy to answer your questions.
You are in advanced mode.
You can turn it off in left sidebar. To use advanced options, you will need to enter your own Google Maps API Key.
Get Google API Key
You are in advanced mode.
You can turn it off in left sidebar. To use advanced options, you will need to enter your own Google Maps API Key.
Get Google API Key